Spain
Despite still being fresh in our minds, there's no doubt that the 2008-2012 Spanish squads were some of the best teams in world football. The main reason for that lies in their now-signature style of football called "tiki-taka," which relied on short passing, possession, and constant movement. However, Spain experienced success even before the tiki-taka; they've won the 1964 European Championship and placed 4th at the 1950 World Cup.
Main trophies
Olympic football tournament: 1
World Cup: 1
UEFA European Championship: 3
Player records
Most games played: Sergio Ramos (170, in 2019)
Top goalscorer: David Villa (59)
Stats
History
Successful debut at the Olympics
The Spanish Football Federation was founded in 1909, with the first national team being formed in 1920 in preparations for the Olympics. They would play their first international match on 28 August 1920, defeating Denmark 1-0 on a winner from Patricio Arabolaza. They then played hosts Belgium, who triumphed 3-1 and went on to win the tournament. Following the final match, Spain entered a consolation tournament with three other national teams. In the first match, Spain came from behind to defeat Sweden 2-1. They followed it up by defeating Italy 2-0 in the semi-finals, with Félix Sesúmaga scoring a brace. Shockingly, this was the first and only time Spain would beat Italy in an official match until 2012. The consolation tournament finals saw Spain face off against the Netherlands. Once again, they came out victorious, winning the silver medal in the process.
Advertisement

The two wars
Though they missed the inaugural World Cup in 1930, Spain qualified for the next one. Their first appearance in the competition was an unmitigated success, as they managed to knock out Brazil in the round of 16. They won the game 3-1, scoring all three of their goals within an 11-minute period in the first half. In the quarter-finals, they drew 1-1 in the first match against hosts and eventual champions Italy, but lost the replay 0-1.
Spain was unable to capitalize on this promising appearance due to the outbreak of the Civil War, which lasted from 1936 to 1939. As soon as it ended, Spain was drawn into WWII, which prevented them from playing any competitive matches for 16 years. However, they returned in style by qualifying for the 1950 World Cup and winning all three matches in their initial group. They recorded one draw and two defeats in the final round, good for a 4th-place finish.
First major trophy
After failing to qualify for the next two World Cups, the Spanish Football Federation decided to appoint the legendary Helenio Herrera as coach. In the qualifiers for the 1960 European Championship, they advanced to the quarter-finals by defeating Poland 7-2 on aggregate. However, they forfeited their tie against the USSR due to dictator Franco's political disagreements with the Soviets.
Four years later, they got their chance at redemption by qualifying for the final stage of the 1964 Euro. In the semi-finals, they defeated a heavily favored Hungarian side in extra time. The final match saw them square off against the Soviet Union again; this time around, they had Franco's permission to play. In a tense and close-fought battle, Spain prevailed 2-1, claiming the first major trophy in its history.
The big slump
Unbeknownst to everyone, this title would be Spain's last trophy in a long time. The following two decades were a particularly dry era, as they failed to qualify for five out of nine major tournaments held during this period. Even when they made the final tournament, they were routinely knocked out in the group stage (1962, 1966, 1978, and 1980). These results seemed to reflect the turbulence in the country, where Franco's regime was nearing its end.
The '80s saw Spain enter a mini-resurgence, which began at the 1982 World Cup. After being selected as a host nation for the tournament, the expectations for this Spanish team were reasonably high. Despite not playing their best football, they managed to advance from their group containing Honduras, Yugoslavia, and Northern Ireland. In the second stage, they lost 1-2 to Germany and drew 0-0 with England, which saw them knocked out of the competition.
Back on track
This appearance seemed to breathe new life into the Spanish team. In the Euro 1984 qualifiers, they entered the last match against Malta needing a victory by 11 goals or more to claim the top spot in their group. Though they only lead 3-1 at half time, they went on to score nine goals in second half, cinching the top spot and qualifying for the final tournament. The second-placed Netherlands missed out on the tournament altogether.
At the tournament proper, Spain drew 1-1 with Romania and Portugal in their first two games. However, a 1-0 victory over West Germany in the last leg was enough to top their group and qualify for the semi-finals. The following match against Denmark also ended in a 1-1 draw, but Spain went through on penalties. In the finals, they lost 0-2 to the Platini-led France, who were both the hosts and tournament favorites.
The 1986 World Cup saw Spain land in a relatively easy group containing Brazil, Algeria, and Northern Ireland. They lost the match against Brazil, but still made the knockout stages with two victories over their remaining opponents. In the round of 16, they routed Denmark 5-1, with Emilio Butragueño scoring four goals. They then lost their quarter-finals match to Belgium, who went through on penalties.
More turbulence
The following two major tournaments (Euro 1988 and World Cup 1990) were not particularly successful, as Spain bowed out in the group stage and the round of 16, respectively. The 1994 World Cup was an improvement, with Spain advancing from their group and beating Switzerland 3-0 in the round of 16. They proceeded to lose to Italy 1-2 in a controversial match in which Mauro Tassotti elbowed Spain's star midfielder Luis Enrique, taking him out of the game.
At the Euro 1996, Spain managed to escape from their group which contained France and Bulgaria. In the quarter-finals, they were paired with England. Since 120 minutes produced no goals, the match went to penalties, which England won 4-2. The next tournament Spain took part in was the 1998 World Cup, but they were unable to advance from their group due to a surprise defeat to Nigeria and a lifeless 0-0 draw with Paraguay.
Running in circles
The new century saw Spain produce more young talent, but their tournament results seemed destined to remain mediocre. At the Euro 2000, they advanced from their group, but lost to old rivals France in the quarter-finals. The 2002 World Cup seemed like a good chance for Spain to turn a new leaf, especially once they won all three of their group matches. After barely scraping by Ireland in the round of 16, though, they were eliminated by South Korea on penalties.
The next two tournaments followed a similar pattern. The 2004 Euro saw Spain get knocked out in the group stage, which contained Portugal, Russia, and eventual surprise champions Greece. Following this let-down, the Spanish Football Federation appointed Luis Aragonés as the new manager. He led Spain to three victories in the group stage of the 2006 World Cup, but they were eventually knocked out by France in the round of 16.
Tiki-taka
By this point, it was clear that Spain had an array of talented players in search of a system. Their midfield -- consisting of players such as Xavi, Andres Iniesta, and David Silva -- was both their greatest strength and their Achilles heel. Despite all of them being technically gifted and calm in possession, they were also physically inferior to the majority of their opponents. In addition to that, Spain's defenders were seemingly prone to fatal errors.
To counter these weaknesses, Aragonés started employing his version of tiki-taka, a style of play that focused on passing and possession. This strategy was in full display at the Euro 2008, where Spain was placed into a group containing Russia, Sweden, and defending champions Greece. Though they ended up conceding a goal in each of these games, Spain emerged victorious every time, claiming first place in their group.
Their biggest test arrived in the quarter-finals, which pitted them against World Cup holders Italy. Their catenaccio strategy proved to be an effective counter to tiki-taka, with the match ending in a 0-0 draw and going to penalties. However, Spain proceeded to win the penalty shoot-out 4-2. They went on to defeat Russia (3-0) and Germany (1-0) to claim their first major title in 44 years. Despite scoring no goals, Xavi was voted player of the tournament.
World champions
Following this success, Aragonés stepped down as manager and was replaced by Vicente del Bosque. Under Del Bosque, Spain combined the tiki-taka strategy with a direct style of play that earned them the nickname La Furia Roja ("The Red Fury"). At the 2009 Confederations Cup, they won all three matches in their group. However, a semi-finals 0-2 loss to the United States served as a warning that they weren't as invincible as they appeared.
The 2010 World Cup qualifiers saw Spain maintain first place with a perfect record of 10 victories in 10 games. They were off to a slow start at the tournament proper, though, losing 0-1 to Switzerland in their opener. They won the next two matches against Honduras (2-0) and Chile (2-1), but many pundits started suspecting that the tiki-taka style of play had run its course.
In the knockout stages, Spain didn't concede a single goal on the way to their first World Cup title. They defeated Portugal and Paraguay 1-0, with both goals scored by David Villa. In the semi-finals, the scoreline remained the same, but it was Puyol who scored the winning goal. The finals against the Netherlands were a notably physical match, with 14 yellow cards given to players of both teams. Spain won 1-0 in extra time on a winner from Iniesta.
Continued success
Prior to the 2012 Euro, Spain was the overwhelming favorite to become the first team to retain the championship title. Once again, their qualifying campaign was a complete success, as they won all 8 of their games with a +20 goal difference. They then faced Italy in the tournament opener, drawing 1-1. With two victories over Ireland and Croatia, they upped their final point tally to 7, good enough for the first place in the group.
After defeating France 2-0 in the quarter-finals in a convincing fashion, Spain faced a tough test in the semi-finals. Their opponents, Portugal, created numerous goalscoring chances throughout the match, but Spain held out and went through on penalties. The finals were a rematch with Italy, with Spain having full control from the start. They won the match 4-0, becoming the joint most successful team in European Championship history.
End of an era
Despite proving instrumental in winning three major titles, tiki-taka was not a perfect strategy. By this point, many teams managed to counter tiki-taka with a narrow 4-4-2 formation, which created plenty of space for counter-attacks. This strategy also forced the Spaniards to move the ball to wide areas, denying them their vital midfield space. Eventually, tiki-taka turned into a flawed and ineffective system.
All this became evident at the 2014 World Cup. In their opening game against the Netherlands, Spain had no answer for Louis Van Gaal's narrow 5-3-2 setup, losing the match 1-5. Their next opponent was Chile, who used a similar strategy which included three central midfielders man-marking their Spanish counterparts. Spain lost 0-2, getting eliminated from the tournament. In the last leg, they beat Australia 3-0.
The following two tournaments ended in similar fashion. At the 2016 Euro, they lost their final group stage match against Croatia, which saw them finish in second place and face Italy in the round of 16. Once again, Spain lacked the midfield space to punish their opponents' aggressive play, eventually losing 0-2. At the 2018 World Cup, they were also eliminated in the round of 16; this time by hosts Russia in a penalty shoot-out. The pattern would repeat in 2022 World Cup, a penalty shoot-out in the round of 16 would be the ending chapter in the tournament for the Spaniards.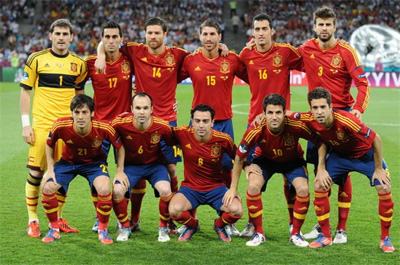 Spain starting XI in Euro 2012 final.
FIFA World Cup results
Spain has participated 16 times in the World Cup (FIFA World Cup qualification not included).
Table 1. Spain's performances in the World Cup

| Year | Result | Notes |
| --- | --- | --- |
| 2022 | Round of 16 | |
| 2018 | Round of 16 | |
| 2014 | Group Stage | |
| 2010 | Winners | 1st tournament title |
| 2006 | Round of 16 | |
| 2002 | Quarter-finals | |
| 1998 | Group Stage | |
| 1994 | Quarter-finals | |
| 1990 | Round of 16 | |
| 1986 | Quarter-finals | |
| 1982* | Group Stage 2 | |
| 1978 | Group Stage | |
| 1974 | Not qualified | |
| 1970 | Not qualified | |
| 1966 | Group Stage | |
| 1962 | Group Stage | |
| 1958 | Not qualified | |
| 1954 | Not qualified | |
| 1950 | 4th place | |
| 1938 | Withdrew† | |
| 1934 | Winners | |
| 1930 | Decline to participate | |
UEFA European Championship results
Spain have participated 12 times in the European Championship (Euro).
Table 2. Spain's performances in the European Championship

| Year | Result | Notes |
| --- | --- | --- |
| 2020 | Semi-finals | |
| 2016 | Round of 16 | |
| 2012 | Winners | 3rd tournament title |
| 2008 | Winners | 2nd tournament title |
| 2004 | Group Stage | |
| 2000* | Quarter-finals | |
| 1996 | Quarter-finals | |
| 1992 | Not qualified | |
| 1988 | Group Stage | |
| 1984 | Runners-up | |
| 1980 | Group Stage | |
| 1976 | Not qualified | |
| 1972 | Not qualified | |
| 1968 | Not qualified | |
| 1964* | Winners | 1st tournament title |
| 1960 | Not qualified | |
By Martin Wahl
Logo

The logo is representing a badge with The Coat of arms of Spain and one star above (symbolizing the World Cup victory). The chief field below the crown and between the pillars displays heraldic symbols, or arms. In top left arm is the Kingdom of Castle arm, in the top left is the Kingdom of León arm, in the bottom left is the Crown of Aragon arm, in the bottom right is the Kingdom of Navarre arm. In addition, there is the symbols for House of Bourbon in the middle and the Kingdom of Granada in the middle bottom. On the banner below the shield the "RFEF" initials are visible, standing for Real Federación Española de Fútbol.
External links
› Official website (N/A)
References:
https://en.wikipedia.org/wiki/Spain_national_football_team
https://en.wikipedia.org/wiki/History_of_the_Spain_national_football_team
https://en.wikipedia.org/wiki/Spain_at_the_FIFA_World_Cup
https://en.wikipedia.org/wiki/Spain_at_the_UEFA_European_Championship
https://en.wikipedia.org/wiki/Coat_of_arms_of_Spain#Historical_Spanish_coats_of_arms
Image sources:
1. Илья Хохлов
2. Ibid