Xavi
Not many players can boast of being physical embodiments of a football style, but Xavi Hernandez is certainly one of them, but on the same time heir to players such as Josep Samitier and Pep Guardiola. With his tremendous vision, superb technical skills, and perfect passing game, Xavi was the ideal match for the passing-focused tiki-taka. He's one of the most decorated Spanish players of all time, having won eight La Liga titles, four Champions Leagues, two European Championships, and one World Cup.
Basic facts
Birth: 1980
Country: Spain
Position: Midfielder

Clubs
Barcelona (1997-2015)
Al Sadd (2015-2019)
Stats
Club football: 505 matches, 58 goals
National team: 133 matches, 13 goals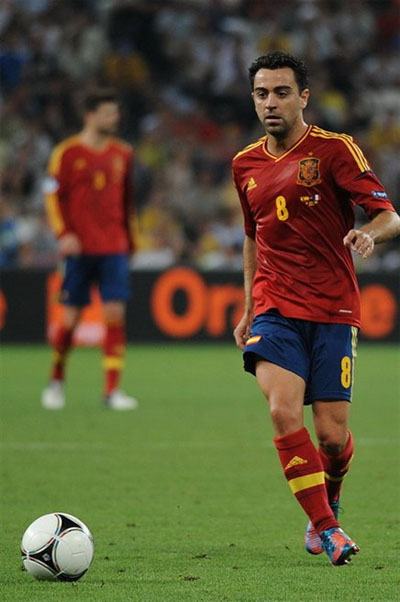 Biography
The kid from La Masia
At the age of 11, Xavi joined Barcelona's youth academy called La Masia. This was the first and one of the most important steps in his career, as he was able to learn Barcelona's team-first philosophy from the get-go. In the following years, he slowly advanced through the club's youth teams until he arrived at Barcelona B in 1997. He soon became a key member of the squad, helping them secure a promotion to the Second Division.
His first-team debut arrived in 1998, in a Copa Catalunya match against Lleida. A few months later, he scored his first goal in the Super Cup final against Mallorca. Though he was initially featured for both the senior and reserve team, a streak of impressive performances led to him becoming a full-part first-team member. In 1999, he helped Barcelona win a La Liga title and was named Breakthrough Player of the Year.
Top of the world
With Pep Guardiola's injury and subsequent departure, Xavi established himself as the team's number one playmaker. However, the first few years of the new century were tough on Barcelona, as the team struggled with serious financial issues. The new president Joan Laporta brought the club back to its feet by hiring a new manager -- Frank Rijkaard -- and international stars such as Ronaldinho, Deco, and Samuel Eto'o.
By this point, Xavi was ready to be a key player of the new, potent offense that saw Barcelona win two consecutive La Liga titles in 2005 and 2006. The following year, they also reached the Champions League final, where they came back from behind to triumph 2-1 over Arsenal. The next two seasons were disappointing for both Xavi and Barcelona, as a string of freak injuries and a lack of form led to failing to win any major trophies.
In 2008, Barcelona brought this bad streak to an end by appointing Pep Guardiola as coach. One of the first things Guardiola did was to convince Xavi that he was too important to leave the club. Under the new coach, Xavi became the fulcrum of the tiki-taka philosophy that saw the club claim three straight La Liga titles and two Champions League trophies from 2009 to 2011. During this period, Xavi was La Liga's top assist provider on two separate occasions.
Advertisement

International trifecta
The tiki-taka style carried over to the Spanish national team, with Xavi having an identical role as in Barcelona. In 2008, he was pivotal to Spain winning the European Championship, their first major tournament in 44 years. In addition to dominating the midfield, he put Spain on the scoresheet in the semi-finals against Russia and assisted Torres for the winning goal in the final against Germany. For his performances, he was named Player of the Tournament.
Two years later, Xavi helped Spain win its first-ever World Cup. Despite a surprising loss in the tournament opener against Switzerland, Spain recovered in time and proceeded to win throughout the rest of the competition. Xavi started every game and recorded the most (599) successful passes at the tournament. He provided two key passes for Spain's goal winners in the round of 16 against Portugal and the semi-finals against Germany.
In 2012, Xavi broke the European Championship record for most passes in a single match, recording 127 passes in a 4-0 drubbing of Northern Ireland. Spain went on to claim its third consecutive major tournament, with Xavi mostly providing support to his natural successor Andres Iniesta. Still, he produced two assists in a 4-0 victory against Italy in the final, cementing his place in another Team of the Tournament.
Later career
Following these international exploits, Xavi started to focus on club competitions in order to preserve his body towards the end of his career. He was instrumental in Barcelona winning two more La Liga titles in 2013 and 2015, as well as the Champions League in 2015. The same year, he finished his career at Barcelona as the most capped player in the history of the club, having played 767 games in all competitions and scoring 85 goals.
He went on to play four more seasons at the Qatari club Al-Saad, helping the team win the Qatar Stars League in 2019. He retired from professional football at the end of that season but decided to stay in Qatar to pursue a coaching career. That summer, he signed his first managerial contract and took over as the coach of Al-Saad.
By Martin Wahl
Trivia
Football players also born in 1980

References:
https://en.wikipedia.org/wiki/Xavi
https://en.wikipedia.org/wiki/Tiki-taka
https://www.britannica.com/biography/Xavi