Paraguay
Though Paraguay may not be on the list of World Cup contenders, its teams have often been known for playing disciplined football and recording hard-fought victories. They've made the World Cup eight times, with their best finish (quarter-finals) coming in 2010. They also remain a regular participant at the Copa América (or South American Championship), a competition they won in 1953 and 1979.
Main trophies
Copa América: 2
Player records
Most games played: Paulo da Silva (148)
Top goalscorer: Roque Santa Cruz (32)
Stats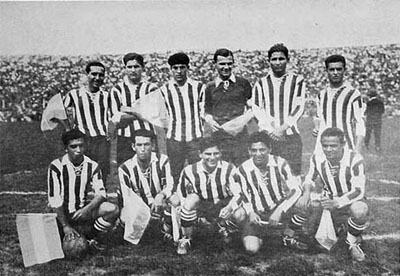 History
Early days
The introduction of football in Paraguay can be attributed to William Paats, a sports instructor of Dutch descent. After one of his trips to Buenos Aires, Paats returned with a ball, and soon started teaching the sport to his students. This eventually led to the foundation of the national league in 1906 and the national team in 1910. In its first match, Paraguay drew 0-0 with Hércules of Corrientes.
In 1921, Paraguay took part at its first South American Championship. Following a shocking victory over three-time champions Uruguay, they finished in fourth place. Over the following decade, they became a regular participant at the competition, recording 2 second-place and 3 third-place finishes. They also took part in the inaugural World Cup in 1930, where they lost 0-3 to the United States, but defeated Belgium 1-0.
Advertisement

First trophies
From 1934 to 1994, Paraguay qualified for just three World Cups: in 1950, 1958, and 1986. The former two tournaments saw them knocked out in the group stage, with the 1986 edition serving as their best finish to date. After defeating Iraq 1-0, two draws with Mexico and Belgium were enough to secure a place in the round of 16. However, England proved to be too strong of an opponent, and La Albirroja lost the game 0-3.
In between these appearances, Paraguay was making a name for itself in South America. In 1953, they claimed their first South American Championship by defeating Brazil 3-2 in the final playoff match. In 1979, they won the competition for the second time by beating Chile in the finals. Both teams won their home games, but Paraguay won the trophy on goal difference.
A defensive approach
In 1998, Paraguay returned to the World Cup with an experienced and defensive-minded squad led by José Luis Chilavert. They advanced from a tough group containing Spain, Nigeria, and Bulgaria conceding a single goal, setting up a round of 16 match with eventual champions France. Despite a heroic defensive effort, La Albirroja lost the game 0-1 in extra time. Chilavert and defender Carlos Gamarra were chosen to the tournament's best team.
Four years later, this generation of players made another shot at World Cup glory. This time around, their defensive prowess was far less impressive, but they still managed to advance from a group consisting of Spain, South Africa, and Slovenia. Once again, they drew the short straw and had to face Germany, one of the tournament's favorites. In another hard-fought match, Paraguay conceded the deciding goal in the final minutes of the game.
Recent success
Despite Chilavert and other notable players retiring from the national team, Paraguay continued to qualify for the World Cup. In 2006, they were drawn into a group containing England, Sweden, and Trinidad and Tobago. Despite winning the latter match, they lost 0-1 against both England and Sweden, who went on to advance to the knockout round.
In 2010, Paraguay had one of their best World Cup showings to date. With one victory over Slovakia and two draws versus Italy and New Zealand, they finished first in their group. In the round of 16, they outlasted Japan in a penalty shootout. Their run came to an end in the quarter-finals, where they faced eventual champions Spain. Despite goalkeeper Justo Villar saving a penalty, Spain won the game 1-0.
FIFA World Cup results
Paraguay has participated eight times in the World Cup (FIFA World Cup qualification not included).
Paraguay's performances in the World Cup

| Year | Result |
| --- | --- |
| 2022 | Not qualified |
| 2018 | Not qualified |
| 2014 | Not qualified |
| 2010 | Quarter-finals |
| 2006 | Group Stage |
| 2002 | Round of 16 |
| 1998 | Round of 16 |
| 1994 | Not qualified |
| 1990 | Not qualified |
| 1986 | Round of 16 |
| 1982 | Not qualified |
| 1978 | Not qualified |
| 1974 | Not qualified |
| 1970 | Not qualified |
| 1966 | Not qualified |
| 1962 | Not qualified |
| 1958 | Group Stage |
| 1954 | Not qualified |
| 1950 | Group Stage |
| 1938 | Decline to participate |
| 1934 | Decline to participate |
| 1930 | Group Stage |
By Martin Wahl
Logo
The logo is formed as a circle containing letters, four lags and a yellow star in the center. Positioned in the upper part is the letters "APF", standing for Asociación Paraguaya de Fútbol (Paraguayan Football Association in English).
External links
› Official website (N/A)
References:
https://en.wikipedia.org/wiki/Paraguay_national_football_team
https://en.wikipedia.org/wiki/Paraguay_at_the_FIFA_World_Cup
https://en.wikipedia.org/wiki/Paraguay_at_the_Copa_América
Image source:
Los Sports