Rivellino
Known for his signature mustache, exceptional technique, and passing prowess, Roberto Rivellino was a key part of the Brazilian national team in the '70s. Domestically, he spent most of his career with Corinthians, where he was a fan favorite for a long time. He perfected a feint called "flip flap," which was later used by many of his compatriots such as Ronaldo and Ronaldinho.
Basic facts
Birth 1946
Country: Brazil
Position: Midfielder
Clubs
Corinthians (1965–1974)
Fluminense (1975–1978)
Al-Hilal (1978–1981)
Stats
Club football: 338 matches, 103 goals
National team: 92 matches, 26 goals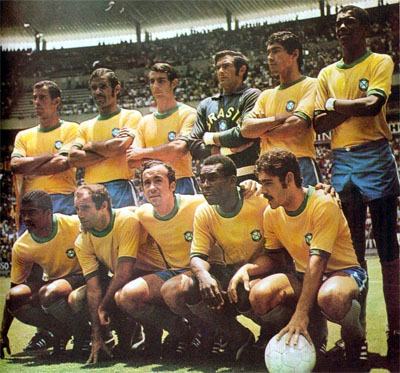 Biography
Right man, wrong time
After trying his luck at futsal as a kid, Rivellino became a professional football player at Corinthians. Soon enough, his skill with the ball, close control, and left foot ability saw him become one of the most popular players in the league. Corinthians fans affectionately nicknamed him O Rei do Parque, meaning King of the Park.
Unfortunately for Rivellino, he arrived at the club during the biggest drought in its history. During his nine seasons at Corinthians, the club failed to win a single São Paulo state league title, a streak that eventually lasted 23 years. After another close loss in the 1974 state championship finals, the fans turned on Rivellino, singling him out as the main reason for the club's lack of success. As a result, he decided to move on.
Advertisement

The 1970 World Cup
For all his misfortune with Corinthians, Rivellino was still considered one of the best attacking midfielders in the world during his prime. Nowhere was this more evident than at the 1970 World Cup, which featured a legendary Brazilian team led by Pelé and captained by Carlos Alberto. Even today, many fans and pundits believe that this was the greatest team in the history of the competition.
For his part, Rivellino scored three goals en route to the finals, where Brazil dismantled Italy 4-1 and claimed its third World Cup title. One of those goals was a bending free-kick against Czechoslovakia, which earned him the nickname Patada Atómica or the Atomic Kick. Wearing the number 11 jersey, he started five out of six matches for Brazil at the tournament, providing a contribution from the left flank and being one of the team's most consistent performers.
Later career
Before retiring from the national team, Rivellino played at two more World Cups for Brazil. In 1974, he again scored three goals to help the team reach the third-place playoff, where they were defeated by Poland 0-1. By the 1978 World Cup, he was mostly relegated to bench duty. However, he played a crucial role in the third-place playoff against Italy, coming off the bench to lead a comeback that saw Brazil overturn a 0-1 deficit and win 2-1.
As for his club career after leaving Corinthians, he went on to play three seasons at Fluminense. This team -- stacked with great players such as Carlos Alberto, Gil, Doval, and Pintinho -- became known as "the tricolor machine." In 1975 and 1976, they won two consecutive Rio de Janeiro state championships. Eventually, Rivellino left to play for Al-Hilal, where he finished his career in 1981.
By Martin Wahl
Trivia
Football players also born in 1946

References
https://en.wikipedia.org/wiki/Rivellino
http://www.planetworldcup.com/LEGENDS/rivelino.html
Image sources:
Cover of El Gráfico (unknown photographer)