David Beckham
These days, David Beckham is known for many things, but he first came to prominence as a football player. With his powerful right foot, passing ability, and signature curled free-kicks, he established himself as one of Britain's greatest football stars. During his 20-year career, he won 19 major trophies for his clubs and appeared in 115 games for England. In 2004, Pelé named Beckham one of the 100 greatest living players.
Basic facts
Birth: 1975
Country: England
Position: Midfielder
Clubs
Manchester United (1992–2003)
Preston North End (1994–1995, loan)
Real Madrid (2003–2007)
LA Galaxy (2007–2012)
Milan (2009, loan)
Milan (2010, loan)
Paris Saint-Germain (2013)
Stats
Club football: 523 matches, 97 goals
National team: 115 matches, 17 goals
Biography
Birth of a star
David Beckham was born 2 May 1975, as the second child to Sandra Georgina and David Edward Alan Beckham, and grew up in a part of East London called Leytonstone. He played football from a very early age, impassioned by the sport, he dreamed about being a professional as an adult.
After starting his youth career at the local Ridgeway Rovers, Beckham made his way to Manchester United in 1991. He made the senior team debut in 1992, around the same time as the rest of the famous "Fergie's Fledglings." He soon became a starter at the right midfield position, claiming the No. 7 shirt from Mark Hughes. In the 1996 Premier League opener against Wimbledon, Beckham became a household name by scoring a lob from the halfway line.
Beckham remained at United until 2003, helping them win six Premier League titles and one European Cup. He would play more games in the United shirt (386), than in any other, however, due to his increasingly glamorous lifestyle, his relationship with coach Alex Ferguson slowly deteriorated. The issues came to a head once Ferguson kicked a boot that struck Beckham in the eye, causing a cut that needed to be stitched. Unable to mend their relationship, United sold Beckham to Real Madrid for €37 million.
International incidents
At the international stage, Beckham had another share of controversies to worry about. He made his tournament debut at the 1998 World Cup, though manager Glen Hoddle initially used him as a substitute. In the round of 16 match against Argentina, Beckham was sent off for kicking Diego Simeone while lying on the pitch. England eventually lost the match on penalties, and Beckham became the main target of abuse by both the fans and media.
By Euro 2000, things didn't improve. Despite earning two assists in a 2-3 defeat to Portugal in the tournament opener, Beckham was taunted by fans throughout the match, and he finally responded by raising his middle finger. Though this actually improved his image in the media, England was eliminated in the group stage. For the 2002 World Cup, Beckham was promoted to team captain, but England was unable to get past Brazil in the quarter-finals.
Advertisement

Galáctico
In Real, Beckham joined Ronaldo, Zidane, Figo, and Raύl in a squad known as Galácticos. For all the talent on display, though, Real struggled to win any trophies in Beckham's first three seasons with the club. Despite this lack of team success, Beckham was turning in solid performances, and led La Liga in assists in 2005.
This turbulent period culminated in a surprising defeat to Arsenal in the last 16 of the 2006 Champions League. Following this loss, Florentino Pérez resigned as president, and Real started veering away from the Galácticos era. Under new manager Fabio Capello, Beckham was initially out of favor. However, he made a comeback in the second part of the season, helping Real reach its first La Liga title in four years.
Internationally, Beckham's final major tournament was the 2006 World Cup. He played a big part in getting England to the quarter-finals, scoring a free-kick winner in the round of 16 against Ecuador. Before the quarter-final match against Portugal, he suffered from illness and dehydration, and was substituted shortly after half-time. Portugal went on to win the game on penalties. A day later, Beckham announced he was stepping down as team captain.
From LA to Paris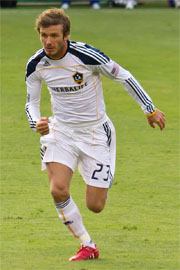 Having already signed a new contract with Los Angeles Galaxy during his final season with Real, Beckham joined the MLS to global fanfare. The media frenzy allowed the Galaxy to make money off the new signing via various sponsorships, and Beckham himself immediately became the team's captain. He spent the following five seasons with the Galaxy, helping them claim two MLS Cups in 2011 and 2012.
In between the MLS seasons, Beckham kept trying to stay fit for the national team. This resulted in two separate loans to Milan in 2009 and 2010, the latter of which saw him get injured and miss the 2010 World Cup and a big part of the following season for LA Galaxy. In 2013, Beckham signed a five-month deal with Paris Saint-Germain, helping them claim a Ligue 1 title. At the end of the season, he retired from football.
By Martin Wahl
References:
https://en.wikipedia.org/wiki/David_Beckham
https://www.biographyonline.net/sport/david_beckham.html
Image source:
Calebrw
Unknown