Wimbledon FC (Milton Keynes Dons)
Wimbledon FC was the club that later would become Milton Keynes Dons FC. It mustn't be confused with Wimbledon AFC (see "History" below). Wimbledon become a member of the Football League as late as in 1977 and reached the first division nine years later. Best result in top league is two sixth positions in 1987 and 1994. They won the FA Cup in 1988.
Basic facts
Founded: 1889
Country: England
City: Wimbledon (1889-2004), Milton Keynes (2004-)
Home grounds
Plough Lane (1912-1991)
Selhurst Park (1991-2003)
Stadium mk (2004-)
Main trophies
FA Cup: 1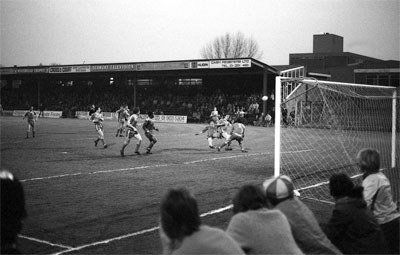 History
Founded in 1889 as Wimbledon Old Centrals, the club moved to Milton Keynes and became Milton Keynes Dons in 2004. The club is most known for many as Wimbledon, though, which was the club's name for almost 100 years (1905-2004). After moving to a new town and getting a new name, the club chosen to drop all connections with the old club and at the same time a new club in London, AFC Wimbledon, was founded.
By Oscar Anderson
Advertisement

Trivia
Football clubs also founded in 1889

Sheffield United FC
League statistics
League record
Titles in total: 0
Premier League titles: 0
First participation: 1977-1978
All seasons
| Season | League | Position | Points | Notes |
| --- | --- | --- | --- | --- |
| 2018-19 | - | - | - | |
| 2017-18 | - | - | - | |
| 2016-17 | - | - | - | |
| 2015-16 | - | - | - | |
| 2014-15 | - | - | - | |
| 2013-14 | - | - | - | |
| 2012-13 | - | - | - | |
| 2011-12 | - | - | - | |
| 2010-11 | - | - | - | |
| 2009-10 | - | - | - | |
| 2008-09 | - | - | - | |
| 2007-08 | - | - | - | |
| 2006-07 | - | - | - | |
| 2005-06 | - | - | - | |
| 2004-05 | - | - | - | |
| 2003-04 | - | - | - | |
| 2002-03 | 1st Division | 10 | 65 | |
| 2001-02 | 1st Division | 9 | 67 | |
| 2000-01 | 1st Division | 8 | 69 | |
| 1999-00 | Premier League | 18 | 33 | Relegated |
| 1998-99 | Premier League | 16 | 42 | |
| 1997-98 | Premier League | 15 | 44 | |
| 1996-97 | Premier League | 8 | 56 | |
| 1995-96 | Premier League | 14 | 41 | |
| 1994-95 | Premier League | 9 | 56 | |
| 1993-94 | Premier League | 6 | 65 | |
| 1992-93 | Premier League | 12 | 54 | |
| 1991-92 | 1st Division | 13 | 53 | |
| 1990-91 | 1st Division | 7 | 56 | |
| 1989-90 | 1st Division | 8 | 55 | |
| 1988-89 | 1st Division | 12 | 51 | |
| 1987-88 | 1st Division | 7 | 57 | |
| 1986-87 | 1st Division | 6 | 66 | |
| 1985-86 | 2nd Division | 3 | 76 | Promoted |
| 1984-85 | 2nd Division | 12 | 58 | |
| 1983-84 | 3rd Division | 2 | 87 | Promoted |
| 1982-83 | 4th Division | 1 | 98 | Promoted |
| 1981-82 | 3rd Division | 21 | 53 | Relegated |
| 1980-81 | 4th Division | 4 | 55 | Promoted |
| 1979-80 | 3rd Division | 24 | 34 | Relegated |
| 1978-79 | 4th Division | 3 | 61 | Promoted |
| 1977-78 | 4th Division | 13 | 44 | |
References:
Premier League by Gunnar Persson
Image sources:
Steve Daniels