Paris Saint-Germain FC
Compared to most other football powerhouses, Paris Saint-Germain (PSG) are a relatively young club. Nevertheless, they were remarkably successful in their short lifespan, winning Ligue 1 titles, French Cups and League Cups. They are one of only two French sides to win a European trophy, a feat they have achieved by winning the 1996 Cup Winners' Cup. Their rivalry with Marseille, often referred to as "Le Classique", is widely considered to be the most passionate derby in French football.
Basic facts
Founded: 1970
Country: France
City: Paris
Home grounds
Stade Vélodrome (1970-1972)
Parc des Princes (1973-)
Main trophies
Ligue 1: 10
Coupe de France: 13
UEFA Cup Winners' Cup: 1
See details
Hide details
Ligue 1: 1985–86, 1993–94, 2012–13, 2013–14, 2014–15, 2015–16, 2017–18
Coupe de France: 1981–82, 1982–83, 1992–93, 1994–95, 1997–98, 2003–04, 2005–06, 2009–10, 2014–15, 2015–16, 2016–17, 2017–18
UEFA Cup Winners' Cup: 1995–96
Prominent players
Joël Bats, Luis Fernández, Safet Sušić, Dominique Rocheteau, Bernard Lama, George Weah, Raí, Pauleta, Javier Pastore, Zlatan Ibrahimović, Ángel Di María, Ezequiel Lavezzi, Edinson Cavani, Neymar, Kylian Mbappé, Lionel Messi
Club records
Most games played: Jean-Marc Pilorget (435)
Top goalscorer: Edinson Cavani (138)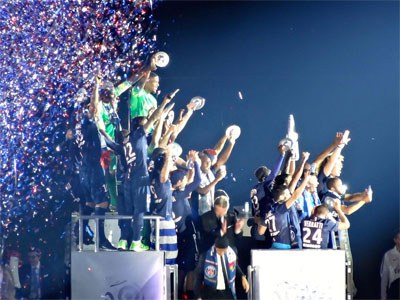 History
For the longest time, Paris did not have a football club that truly belonged to the elite. That finally changed in 1970, when a group of businessmen went through with the plan of merging Paris FC and Stade Saint-Germain into a single club named Paris Saint-Germain. (The year of establishment are somewhat debated though, since the club was affiliated with the Fédération française de football already in December 1969.)

Not surprisingly, PSG immediately drew sympathies of the Parisian crowd, which was exalted to finally have a club that could contend for domestic trophies. Shortly after earning promotion to Ligue 1 in 1972, the club moved into the legendary Parc des Princes, which would serve as their home to this day.
Winning the first major trophies
The early 80s saw PSG win their first major trophies by claiming back-to-back French Cups in 1982 and 1983. This naturally led to the club winning their first Ligue 1 title in 1986 and consequently trying their luck in European competitions, where they played a number of memorable matches but ultimately failed to advance past the quarter-final. It was during this period that PSG developed a penchant for attacking-minded football, which would play a large part in the club becoming fan favorites, both in France and abroad.
Advertisement

Larger investments leading to international success
Following the takeover by Canal+ in 1991, the club's future was destined for greatness. With the new owners investing large sums of money into big-name signings such as George Weah and Raí, PSG quickly developed into one of the most dominant clubs in the country. In addition to claiming their second Ligue 1 trophy (1994), three French Cups (1993, 1995, 1998) and two League Cups (1995, 1998), PSG became the second French club to win a European trophy by defeating Rapid Wien in the 1996 Cup Winners' Cup final.
Decline
These golden years were followed up with a period of decline due to severe mismanagement and cracking under pressure in the title races. Even though the club had some Cup success during the 00s – including three French Cups and a League Cup – this period is mostly remembered for numerous crisis situations and problems with hooliganism.
New owner and new stars
Their fortunes took a turn for the better after the club was bought by Qatar Sports Investments in 2011. Led by their new star, Zlatan Ibrahimović, PSG returned to the spotlight by winning three consecutive Ligue 1 titles from 2013 to 2015. They also added to their trophy collection by claiming another French Cup in 2015 and two more League Cups in 2014 and 2015.

In 2017, a new world record transferred was made when the Brazilian star Neymar was bought from Barcelona for a €222 million fee. Another mega star, Lionel Messi, was transferred to the club in 2021, also from Barcelona.
By Martin Wahl
Logo
The PSG logo includes a stylized drawing of the Eiffel Tower. The Eiffel Tower have been part of the crest since 1972, but the design has going through some slighter changes (in the years 1992-1996, it was left out completely from the logo). Below the Eiffel Tower symbol, a smaller fleur de lys symbol can be found.
Paris Saint-Germain FC timeline
1904 Stade Saint-Germain, that later would merge with Paris FC into PSG, is established.
1969 Paris FC, that later would merge with Stade Saint-Germain into PSG, is established.
1970 The club is established.
1972 Paris FC split from PSG.
1973 Moving to Parc des Princes.
1974 First season in Ligue 1.
1982 Winning its first Coupe de France.
1983 The highest attendance is recorded at Parc des Princes (49,575 against Waterschei).
1986 First time Ligue 1 champions.
1996 First Cup Winners' Cup victory.
2011 The company Qatar Sports Investments become the new club owner.
2016 PGS collects 96 points during the 15-16 season, a new league record.
2017 Neymar become the first player transferred to a club for a fee over €200 million (€222M).
Ligue 1 record
| Season | Position | Points | Notes |
| --- | --- | --- | --- |
| 2017-18 | 1 | 93 | 7th league title |
| 2016-17 | 2 | 87 | |
| 2015-16 | 1 | 96 | 6th league title |
| 2014-15 | 1 | 83 | 5th league title |
| 2013-14 | 1 | 89 | 4th league title |
| 2012-13 | 1 | 83 | 3rd league title |
| 2011-12 | 2 | 79 | |
| 2010-11 | 4 | 60 | |
| 2009-10 | 13 | 47 | |
| 2008-09 | 6 | 64 | |
| 2007-08 | 16 | 43 | |
| 2006-07 | 15 | 48 | |
| 2005-06 | 9 | 52 | |
| 2004-05 | 9 | 51 | |
| 2003-04 | 2 | 76 | |
| 2002-03 | 11 | 54 | |
| 2001-02 | 4 | 58 | |
| 2000-01 | 9 | 44 | |
| 1999-00 | 2 | 58 | |
Champions League record
| Season | Tournament stage | Notes |
| --- | --- | --- |
| 2015-16 | Quarter-finals | Eliminated by Man. City |
| 2014-15 | Quarter-finals | Eliminated by Barcelona |
| 2013-14 | Quarter-finals | Eliminated by Chelsea |
| 2012-13 | Quarter-finals | Eliminated by Barcelona |
| 2011-12 | Group stage | |
| 2004-05 | Group stage | |
| 2001-02 | Second group stage | |
| 1997-98 | Group stage | |
| 1994-95 | Semi-finals | Eliminated by Milan |
External links
References:
https://en.wikipedia.org/wiki/Paris_Saint-Germain_FC
https://fr.wikipedia.org/wiki/Paris_Saint-Germain_Football_Club
https://fr.wikipedia.org/wiki/Parc_des_Princes
http://www.espnfc.com/story/1135960/a-brief-history-of-psg
Image source:
Liondartois