Arjen Robben
With his speed, dribbling ability, and a powerful left foot, Arjen Robben was the prototype of a modern winger. Despite the opposing teams being very familiar with his signature move -- cutting inside from the right wing and unleashing a shot -- there was very little they could do to prevent it. In his prime, Robben was as unstoppable as any player from his generation. Unfortunately, much of that prime was beset by constant injuries.
Basic facts
Birth: 1984
Country: Netherlands
Position: Winger
Clubs
Groningen (2000–2002)
PSV Eindhoven (2002–2004)
Chelsea (2004–2007)
Real Madrid (2007–2009)
Bayern Munich (2009–2019)
Stats
Club football: 420 matches, 151 goals
National team: 96 matches, 37 goals
Biography
The man of glass
Arjen Robben was born 23 January 1984, in Bedum, located in the northeastern Netherlands. He professional career started when he was signed by the club FC Groningen. He was by that time a part of the Netherlands youth team and he would make his first match for the Netherlands senior football team in 2003.
After demonstrating his talent in the Dutch Honour Division, Robben was transferred from Groningen to PSV in 2002. In his first season with the team, Robben helped PSV reach its 17th league title, earning the title of the league's most talented player in the process. Soon thereafter, the club accepted Roman Abramovich's €18 million offer and sold Robben to Chelsea. Around this time, Robben made his tournament debut for the Netherlands, helping them reach the Euro 2004 semi-finals.
The only thing that could stop Robben was his injury record, which earned him the nickname "Glass man." After missing a large part of his second season with PSV due to injuring his hamstring twice, he broke a metatarsal bone in a pre-season game for Chelsea. Though the injuries continue to pile up, he managed to play an important part in Chelsea winning two Premier League titles in his three seasons with the team.
After leaving Chelsea in 2007, Robben joined Real Madrid. In a post-Galacticos era, he became one of the team's key players, leading them to a La Liga title in his first season with the club. However, his tenure in Madrid was cut short by the return of Florentino Perez, who immediately went on another shopping spree which included Kaká and Cristiano Ronaldo. With no place for Robben in the first team, Real transferred him to Bayern Munich in 2009.
Advertisement

World Cup finals
At the 2010 World Cup, Robben enjoyed his most successful campaign with the national team. Despite another hamstring injury in the team's final friendly match, Robben managed to return to the pitch in time for the knockout round. The Netherlands proceeded to make the finals, defeating Slovakia, Brazil, and Uruguay on the way there. In the final match, they lost to Spain on a golden goal by Andres Iniesta.
Robben's final notable major tournament with the Netherlands was the 2014 World Cup. In the team's first match against defending champions Spain, Robben contributed two goals in a stunning 5-1 victory. He then helped the team make the semi-finals by earning a penalty against Mexico and scoring in a penalty shootout against Costa Rica. Though the team proceeded to lose to Argentina, they recovered in time to beat Brazil 3-0 in the third-place match.
The Bayern era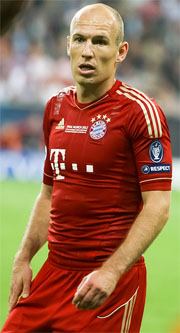 At the club level, it's hard to deny that Robben gave his best years to Bayern. With his injuries mostly a thing of the past, he stayed in Germany for a full decade, playing over 200 league matches and helping Bayern claim eight Bundesliga titles. He had the number 10 jersey in a team full of stars, including players such as Philipp Lahm, Bastian Schweinsteiger, Thomas Müller and Franck Ribéry.

His crowning achievement arrived in 2013, when he scored the winning goal against Borussia Dortmund in the dying minutes of the 2013 Champions League final.

He officially retired from club football on 4 July 2019, aged 35. He said at the time that it was the most difficult decision he had to make in his career, giving the reason the injuries in his last season.
By Martin Wahl
References:
https://en.wikipedia.org/wiki/Arjen_Robben
https://www.thefamouspeople.com/profiles/arjen-robben-11311.php
https://www.theguardian.com/football/2019/jul/04/arjen-robben-retires-35-injuries-taken-toll-bayern-munich
Image source:
Alejandro Ramos
Rayand