Russian Premier League (Premjer-Liga)
People in the West tend to consider the Russian Premier League (Ruska Premijer liga) as the natural continuation of the Soviet Top League, which though is definitely inaccurate. Truth is, in 1991, with Georgia and the Baltic states already out of Soviet Union's football picture, only six teams were Russian in the Top League, while in 1990, in what could be seen as the last 'complete' Soviet Championship, no more than five Top League teams were from Russia. Regardless, new or continuation of a much older competition, the Russian Football Premier League (which is its full title), is where the country's top teams meet every year, igniting passion and excitement to millions of Russians, as well as to football fans in other parts of the world, who follow the goings-on in eastern Europe's hottest league.
Contents
Basic facts
Founded: 2002 (1992)
Country: Russia
Organizer: Russian Football Union (RFU)
League records
Most championships: Spartak Moscow (10)
Most played seasons: CSKA Moscow, Lokomotiv Moscow, Spartak Moscow (27)
History
The early football history in Russia began in the 1860s with British sailors playing at the docks at Odessa. But was rise to popularity for would not be straight journey and Russia would not embrace the novelty with same willingness as the East European countries. Several decades later, in 1897 would the first official game take place.

In the beginning of the 20th century, football became more exposed in St Petersburg and Moscow and the first regularly competitions, such as the Aspeden Cup in St Petersburg, was launched. The first leagues, so far regional, was also initiated.
The Russian League, or Ruska liga, had its inaugural season in 1992, in troubled times for the country, right after the dissolution of the Soviet Union. What started out as a 20-team competition, gradually turned into a 16-team affair, a number that has been deemed perfect for the RPL ever since, with few exceptions.
Spartak Moscow won the first edition, which proved to be their first of nine titles in ten years, an almost inconceivable achievement, one that looks practically impossible to be repeated in Russia. The only team that managed to get a small piece of Spartak's glory those ten years, was Spartak-Alania Vladikavkaz, who won the title in 1995.
Soon after the turn of the century, other Moscow greats stepped forward, Lokomotiv and CSKA, ruling the league for five years. The name of the league become Russian Premier League in 2002.
In 2007, another five-year period started, in which two non-Moscow clubs kept the spotlights away from the Russian capital city. Zenit and Rubin Kazan, having invested heavily in signing top players, sent the message that Moscow's … monopoly was over.
Ever since then, CSKA have returned to the top, even though other Moscow clubs and Zenit from Saint Petersburg continue challenging them, and, occasionally, adding more silverware to their own collections.
A key shift took place in 2011, when the Premier League ditched its traditional spring/autumn format, to the one which is prevalent in western Europe, with the Championship starting mid to late summer, and running until May, with a considerable winter break, time during which the weather conditions in Russia make it really difficult to play.
Financially, the clubs and the league in general have had their ups and downs, having experienced anything from times of… almost irrational spending (Anzhi Makhachkala being a perfect example, home of Samuel Eto'o, Roberto Carlos, and coach Guus Hiddink at some point), to periods of more sane management, following the goings-on in the Russian economy as a whole.
One major detail that has improved through the years, a sector that keeps seeing improvements, spectacular ones, has to do with the stadiums in which the games are played every weekend. In 2002, Lokomotiv Moscow became the first team in Russia to have a truly modern and football-specific stadium. The following years, other clubs realized that having a similarly modern stadium was the way to go, and especially after Russia earned the right to host the World Cup finals in 2018, the construction of fantastic new arenas had an unprecedented boom.
The only thing missing, is … bigger crowds. In Soviet times, Moscow's greats would gather dozens and dozens of thousands of fans. The numbers have gone down significantly, after 2008 no season has had an average of more than 13000 tickets per game, but this should most probably change, with modern stadiums making it easier, more attractive, to watch a game during Russia's coldest months, right before and right after the unavoidable winter break.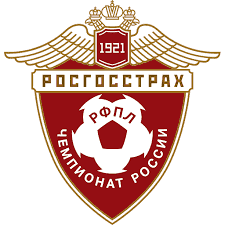 League system
Russian Premier League, or Russian Football Championship, is the top tier of the Russian football league system. The Russian second football league is since the same year known as Football National League. The third tier has historically been divided in 3-6 regional zones.
Table 1. Russian football tiers

| Club | Tier |
| --- | --- |
| Russian Premier League (RPL) | 1 |
| Russian Football National League (FNL) | 2 |
| Russian Professional Football League | 3 |
Below the third level follows the Russian Amateur Football League parted in several regional divisions.
Advertisement

Stats
Teams with most titles
Statistics of all Russian clubs that have won the top league more than once, concerning the period 1992-2020.
Table 2. Clubs and RPL titles

| Club | Titles |
| --- | --- |
| Spartak Moscow | 10 |
| CSKA Moscow | 6 |
| Zenit Saint Petersburg | 6 |
| Lokomotiv Moscow | 3 |
| Rubin Kazan | 2 |
| Spartak Vladikavkaz | 1 |
Most titles from the former Soviet Top League were collected by Dynamo Kyiv, nowadays a member of the Ukrainian Premier League.
Teams with most league participation
Statistics of the Russian clubs that have participated more than 20 times in the national top division during the period 1992-2020.
Table 3. Clubs and league participation

| Club | Participation |
| --- | --- |
| Spartak Moscow | 27 |
| CSKA Moscow | 27 |
| Lokomotiv Moscow | 27 |
| Dynamo Moscow | 26 |
| Krylya Sovetov Samara | 25 |
| Rostov | 25 |
| Zenit | 24 |
Between the first season and the last, in total 47 clubs has participating in top division of the Russian league.
Audience
Capacity of Russian Premier League
The table shows the capacity of all Russian Premier League club stadiums (based on the teams that participated in the league season 2019–2020). Gazprom Arena has by far the biggest capacity.
Table 4. The stadium capacities in the PPL season 2019-2020

| Team | Stadium name | Capacity |
| --- | --- | --- |
| Akhmat Grozny | Akhmat-Arena | 30,597 |
| Arsenal Tula | Arsenal Stadium | 20,048 |
| CSKA Moscow | VEB Arena | 30,457 |
| Dynamo Moscow | VTB Arena | 26,319 |
| Krasnodar | Krasnodar Stadium | 34,291 |
| Krylia Sovetov Samara | Samara Arena | 44,918 |
| Lokomotiv Moscow | RZD Arena | 27,320 |
| Orenburg | Gazovik Stadium | 7,520 |
| Rostov | Rostov Arena | 45,000 |
| Rubin Kazan | Kazan Arena | 45,093 |
| Sochi | Olympic Stadium | 47,659 |
| Spartak Moscow | Otkritie Arena | 34,291 |
| Tambov | Mordovia Arena | 44,442 |
| Ufa | Neftyanik Stadium | 15,132 |
| Ural Yekaterinburg | Central Stadium | 35,696 |
| Zenit | Gazprom Arena | 67,800 |
Players
Records
Sergei Ignashevich (still playing), Sergei Semak, and Dmitri Loskov are the three players who have more than 450 appearances in the Premier League, 489 (in october 2019) , 455, and 452 respectively.
The list of the league's top scorers will, most probably, have a new name at the top soon, since Aleksandr Kerzhakov is still active, has found the back of the net 140 times in Premier League games, and Oleg Veretennikov, who played for more than a dozen clubs, but had his best years in Rotor Volgograd in the nineties, finished his career in 2009 having scored 143 goals.
By Dimitris Basias
Premjer-Liga timeline
1912 The Russian Football Union (Rossiyskiy Futbolnyy Soyuz; RFS) is founded.
1936 Soviet League (predecessor to Premjer-Liga) is established.
1941 The ongoing season is abandoned due to the war.
1945 The league is restored after the war.
1992 The Russian league is established.
1995 From the 1995-96 season, wins are awarded three points instead of two.
2002 The league is renamed as Russian Premier League.
References:
https://en.wikipedia.org/wiki/Russian_Premier_League
https://ru.wikipedia.org/wiki/Чемпионат_России_по_футболу
https://en.wikipedia.org/wiki/2019%E2%80%9320_Russian_Premier_League
The Ball is Round: A Global History of Football – David Goldblatt (2008)