FC Zenit Saint Petersburg
A rather average team until the eighties, Zenit started making a name for themselves only the last decade of Soviet times. Once Russia started having its own national Championship, Zenit again struggled to cope with Moscow's greats, but at the turn of the century things finally took a turn for the better, and especially after 2007 the club that are the football pride of Saint Petersburg have definitely established themselves among the best teams in the country, and, without doubt, the best outside Moscow.
Basic facts
Founded: 1925
Country: Russia
City: Saint Petersburg
Home grounds
Lenin Stadium (1936-1939)
Dynamo Stadium (1944-1950)
Kirov Stadium (1950-1994)
Petrovsky Stadium (1994-)
Main trophies
UEFA Cup: 1
UEFA Super Cup: 1
Russian Premier League: 6
Soviet Top League: 1
Russian Cup: 4
Soviet Cup: 1
Prominent players
Aleksandr Kerzhakov, Anatoli Davydov, Lev Burchalkin, Hulk, Vladimir Kulik, Vyacheslav Malafeev, Andrey Arshavin, Aleksandr Anyukov, Igor Denisov, Danny, Vladimir Bystrov, Ezequiel Garay, Javi García, Salomón Rondón, Konstantin Zyryanov, Roman Shirokov, Mikhail Biryukov, Pavel Pogrebnyak, Anatoly Korotkov, Vladimir Golubev, Pavel Sadyrin, Vladimir Klementyev, Yuri Zheludkov, Vladimir Kazachyonok, Igor Zazulin, Axel Witsel, Nicolas Lombaerts
Club records
Most games played: Anatoli Davydov (456)
Top goalscorer: Aleksandr Kerzhakov (161)
History
Football Club Zenit (the name of the city is usually added in the West, but in Russia itself it's hardly ever included in the club's name, it's considered self-evident), were founded in 1925, after a merger of clubs that already existed in Saint Petersburg, or "Leningrad", as the city had started being called just a year earlier, in 1924.
The name "Zenit" was first used in 1939, and that's how the team were called when they won their first title, the Soviet Cup, in 1944, the first edition of the competition since 1939, before the Soviet Union got involved in World War II.
For the next three and a half decades, the only real achievement of Zenit was that they never got relegated, but also never finishing higher than fourth in the Soviet Championship (in 1958). Actually, if it weren't for a political intervention, Zenit would have been relegated in 1967, when they finished 19th, and according to the Championship rules they would have to play in the second division the next season. Highly influential members of the Soviet Communist party though, insisted that Zenit could not suffer such a fate the same year that the country would be celebrating the 50th anniversary of 1917's revolution, especially given the major role Zenit's home city had played in the revolution.
Advertisement

Reasons to celebrate
The eighties finally gave Zenit's fans a real reason to celebrate. It all started with a third finish in the 1980 Top League. Three years later, they finished fourth and also made it to the Cup semi-finals. In 1984 the time was ripe for Zenit to win their first Championship, the only one before the dissolution of the Soviet Union. Same year, they reached the Cup final, with more decent runs both in the Championship and the Cup following almost until the end of that decade.
Lev Burchalkin and Anatoli Davydov, these two have to be considered the biggest figures of Zenit in Soviet times. Burchalkin was only 18 when he joined Zenit in 1957, and when he retired in 1972 he was topping the club's two major lists, having played more games than anyone else (423), and also having scored more goals than any other player wearing Zenit's jersey (82).
Davydov moved to Zenit in 1975, and managed to break Burchalkin's "423 games played" record on his last season, in 1988, taking advantage of the fact that those years Zenit had given way more Cup games than during Burchalkin's time. Davydov returned to Zenit in 1997, aged 43(!), for one last season, before hanging up his boots.
The modern era of Russian football started horribly for Zenit, finishing 16th in 1992's Championship, and getting relegated. It took them three years to return to the top division, and rather surprisingly they managed to win their first title in 15 years in 1999, their first Russian Cup.
The following years they managed to maintain themselves at a decent level, but it was their takeover by Gazprom in 2005 that signaled the beginning of a new era, one full of hopes for unprecedented success.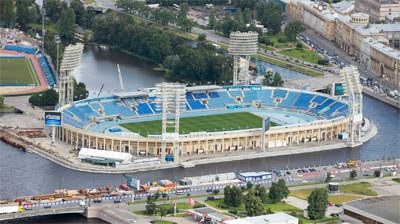 Gazprom invested heavily, allowing the club to hire famous coaches like Dick Advocaat, Luciano Spalletti, and more recently André Villas-Boas and Mircea Lucescu. High-profile foreign players were signed as well, with Brazilian Hulk being a very characteristic example.
In 2006 the team reached the UEFA Cup quarterfinals, and next year they proved ready to conquer the Russian football scene, winning their first Championship title in 22 years, and only second in their history.
Next, it was time for them to conquer Europe. Beating the Glasgow Rangers in the UEFA Cup's final in May 2008, they became just the second Russian club to win a major UEFA competition, having beaten in the round of 32 one of their main rivals in Russia, Spartak Moscow, before going on to eliminate Marseille, Bayer Leverkusen and Bayern Munich as well, on their legendary march to the final.
A few months later, Zenit doubled their international titles, beating Manchester United in Monaco, and winning the UEFA Super Cup.
Since then, they've won three more Russian Premier League titles, have not finished lower than third, have also won two Russian Cups, having decent runs every season in whichever UEFA competition they've competed.
The first years of the 21st century have been Aleksandr Kerzhakov's time, the club's all-time top goalscorer. He first put on Zenit's jersey in 2001, and he's still playing for them (with a break from 2006 to 2010), having found the back of the net more than 120 times.
By Dimitris Basias
Advertisement

Logo

Zenit's logo hasn't changed much since 1940. It's the club's name in Russian (obviously in Cyrillic characters), in what looks like an arrow. In the late eighties, the name of the city, a ball, and also a ship were added. In 2013, someone in the club decided that they needed a more simplified logo, keeping nothing but the "Zenit" arrow, and just adding "1925", the year the club were founded. In 2015, Zenit won their fifth Championship (including the Soviet one in 1984), and, according to the stars system of the Russian Football Union, they could add a star on their emblem, which is exactly what they did.
Trivia
Football clubs also founded in 1925
Colo-Colo

FC Dinamo Tbilisi

Olympiacos FC
External links
References:
https://en.wikipedia.org/wiki/FC_Zenit_Saint_Petersburg
https://ru.wikipedia.org/wiki/Зенит_(футбольный_клуб,_Санкт-Петербург)
https://en.wikipedia.org/wiki/Aleksandr_Kerzhakov
https://en.wikipedia.org/wiki/Anatoli_Davydov
https://ru.wikipedia.org/wiki/Бурчалкин,_Лев_Дмитриевич
http://en.fc-zenit.ru/club/zenit_history/p4050/
http://en.fc-zenit.ru/club/logo
Image source:
1. Вячеслав Евдокимов
2. Andrew Shiva