Ipswich Town FC
Ipswich Town had one of their high points as a football club in 1962, when they for the only time won the top league with Alf Ramsey as manager. The second great moment were in 1978 with the FA Cup victory. A second great era culminated with a UEFA Cup victory in 1981 with Bobby Robson as manager. Norwich is their local rivals and the matches between the teams are called The East Anglian Derby.
Basic facts
Founded: 1878
Country: England
City: Ipswich
Home grounds
Broom Hill/Brook's Hall (1878-1884)
Portman Road (1884-)
Main trophies
First Division/Premier League: 1
FA Cup: 1
UEFA Cup: 1
Prominent players
Frans Thijssen, John Wark, Arnold Mühren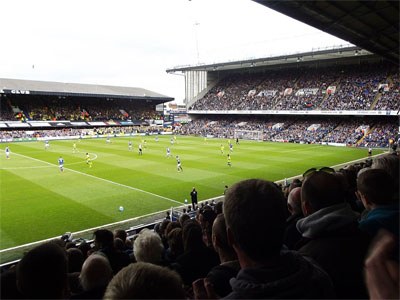 History
The club was founded in 1878 as Ipswich Association FC. Ten years later it merged with the rugby club Ipswich FC and five years after that the rugby was out and only football has been played after that. Ipswich would reside in amateur leagues 50 years until membership in Football League occurred in 1938.
By Oscar Anderson
Advertisement

Trivia
Football clubs also founded in 1878
Everton FC


Manchester United FC

West Bromwich Albion FC
League statistics
League record
Titles in total: 1
Premier League titles: 0
First participation: 1938-1939
First title: 1961-1962
All seasons
| Season | League | Position | Points | Notes |
| --- | --- | --- | --- | --- |
| 2018-19 | Championship | 24 | 31 | |
| 2017-18 | Championship | 12 | 60 | |
| 2016-17 | Championship | 16 | 55 | |
| 2015-16 | Championship | 7 | 69 | |
| 2014-15 | Championship | 6 | 78 | |
| 2013-14 | Championship | 9 | 68 | |
| 2012-13 | Championship | 14 | 60 | |
| 2011-12 | Championship | 15 | 61 | |
| 2010-11 | Championship | 13 | 62 | |
| 2009-10 | Championship | 15 | 56 | |
| 2008-09 | Championship | 9 | 66 | |
| 2007-08 | Championship | 8 | 69 | |
| 2006-07 | Championship | 14 | 62 | |
| 2005-06 | Championship | 15 | 56 | |
| 2004-05 | Championship | 3rd | 85 | |
| 2003-04 | 1st Division | 5 | 73 | |
| 2002-03 | 1st Division | 7 | 70 | |
| 2001-02 | Premier League | 18 | 36 | Relegated |
| 2000-01 | Premier League | 5 | 66 | |
| 1999-00 | 1st Division | 3 | 87 | Promoted |
| 1998-99 | 1st Division | 3 | 86 | |
| 1997-98 | 1st Division | 5 | 83 | |
| 1996-97 | 1st Division | 4 | 74 | |
| 1995-96 | 1st Division | 7 | 69 | |
| 1994-95 | Premier League | 22 | 29 | Relegated |
| 1993-94 | Premier League | 19 | 43 | |
| 1992-93 | Premier League | 16 | 52 | |
| 1991-92 | 2nd Division | 1 | 84 | Promoted |
| 1990-91 | 2nd Division | 14 | 57 | |
| 1989-90 | 2nd Division | 9 | 69 | |
| 1988-89 | 2nd Division | 8 | 73 | |
| 1987-88 | 2nd Division | 8 | 66 | |
| 1986-87 | 2nd Division | 5 | 64 | |
| 1985-86 | 1st Division | 20 | 41 | Relegated |
| 1984-85 | 1st Division | 17 | 50 | |
| 1983-84 | 1st Division | 12 | 53 | |
| 1982-83 | 1st Division | 9 | 58 | |
| 1981-82 | 1st Division | 2 | 83 | |
| 1980-81 | 1st Division | 2 | 56 | |
| 1979-80 | 1st Division | 3 | 53 | |
| 1978-79 | 1st Division | 6 | 49 | |
| 1977-78 | 1st Division | 18 | 35 | |
| 1976-77 | 1st Division | 3 | 52 | |
| 1975-76 | 1st Division | 6 | 46 | |
| 1974-75 | 1st Division | 3 | 51 | |
| 1973-74 | 1st Division | 4 | 47 | |
| 1972-73 | 1st Division | 4 | 48 | |
| 1971-72 | 1st Division | 13 | 38 | |
| 1970-71 | 1st Division | 19 | 34 | |
| 1969-70 | 1st Division | 18 | 31 | |
| 1968-69 | 1st Division | 12 | 41 | |
| 1967-68 | 2nd Division | 1 | 59 | Promoted |
| 1966-67 | 2nd Division | 5 | 50 | |
| 1965-66 | 2nd Division | 15 | 39 | |
| 1964-65 | 2nd Division | 5 | 47 | |
| 1963-64 | 1st Division | 22 | 25 | Relegated |
| 1962-63 | 1st Division | 17 | 35 | |
| 1961-62 | 1st Division | 1 | 56 | 1st league title |
| 1960-61 | 2nd Division | 1 | 59 | Promoted |
| 1959-60 | 2nd Division | 11 | 44 | |
| 1958-59 | 2nd Division | 16 | 40 | |
| 1957-58 | 2nd Division | 8 | 44 | |
| 1956-57 | 3rd Division S | 1 | 59 | Promoted |
| 1955-56 | 3rd Division S | 3 | 64 | |
| 1954-55 | 2nd Division | 21 | 28 | Relegated |
| 1953-54 | 3rd Division S | 1 | 64 | |
| 1952-53 | 3rd Division S | 16 | 41 | |
| 1951-52 | 3rd Division S | 17 | 41 | |
| 1950-51 | 3rd Division S | 8 | 52 | |
| 1949-50 | 3rd Division S | 17 | 35 | |
| 1948-49 | 3rd Division S | 7 | 45 | |
| 1947-48 | 3rd Division S | 4 | 49 | |
| 1946-47 | 3rd Division S | 6 | 46 | |
| 1939-46 | - | - | - | WWII |
| 1938-39 | 3rd Division S | 7 | 44 | |
References:
https://en.wikipedia.org/wiki/Ipswich_Town_FC
Premier League by Gunnar Persson
Image sources:
James Cracknell