Cardiff City FC
Cardiff City had its greatest era during the 1920s, claiming a second place in the top division and reaching two FA Cup finals (with a victory in 1927, which made them the first Welsh side to win the tournament). Although the club is resided in Wales they are playing in the English professional league. It hasn't stopped them from winning the Welsh Cup more than twenty times. Since 2010 the club has been owned by the Malaysian business man Vincent Tan.
Basic facts
Founded: 1899
Country: Wales
City: Cardiff
Home grounds
Sophia Gardens (1899-1910)
Ninian Park (1910-2009)
Cardiff City Stadium (2009-)
Main trophies
FA Cup: 1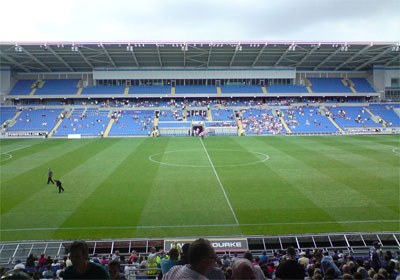 History
Cardiff City FC was founded in 1899 as Riverside Cricket Club. At the approximately same time the club was going professional the name changed in 1908 to Cardiff City. Cardiff as a football club was at its prime in the 1920s, promoted to the First Division and reaching the FA Cup final twice. First final was in the 1924-25 season as runners-up (after losing 0-1 to Sheffield United) and second in the 1926-27 season as winners (1-0 in the final against Arsenal).
By Oscar Anderson
Trivia
Football clubs also founded in 1899
FC Barcelona


AC Milan


Olympique de Marseille

SV Werder Bremen


TSV 1860 Munich
League statistics
League record
Titles in total: 0
Premier League titles: 0
First participation: 1920-1921
All seasons
| Season | League | Position | Points | Notes |
| --- | --- | --- | --- | --- |
| 2018-19 | Premier League | 18 | 34 | |
| 2017-18 | Championship | 2 | 90 | Promoted |
| 2016-17 | Championship | 12 | 62 | |
| 2015-16 | Championship | 8 | 68 | |
| 2014-15 | Championship | 11 | 62 | |
| 2013-14 | Premier League | 20 | 30 | Relegated |
| 2012-13 | Championship | 1 | 87 | Promoted |
| 2011-12 | Championship | 6 | 75 | |
| 2010-11 | Championship | 4 | 80 | |
| 2009-10 | Championship | 4 | 76 | |
| 2008-09 | Championship | 6 | 74 | |
| 2007-08 | Championship | 10 | 64 | |
| 2006-07 | Championship | 13 | 64 | |
| 2005-06 | Championship | 11 | 60 | |
| 2004-05 | Championship | 16 | 54 | |
| 2003-04 | 1st Division | 13 | 65 | |
| 2002-03 | 2nd Division | 6 | 81 | Promoted |
| 2001-02 | 2nd Division | 4 | 83 | |
| 2000-01 | 3rd Division | 2 | 82 | Promoted |
| 1999-00 | 2nd Division | 21 | 44 | |
| 1998-99 | 3rd Division | 3 | 80 | Promoted |
| 1997-98 | 3rd Division | 21 | 50 | |
| 1996-97 | 3rd Division | 7 | 69 | |
| 1995-96 | 3rd Division | 22 | 45 | |
| 1994-95 | 2nd Division | 22 | 38 | Relegated |
| 1993-94 | 2nd Division | 19 | 54 | |
| 1992-93 | 3rd Division | 1 | 83 | Promoted |
| 1991-92 | 4th Division | 9 | 66 | Promoted |
| 1990-91 | 4th Division | 13 | 60 | |
| 1989-90 | 3rd Division | 21 | 50 | Relegated |
| 1988-89 | 3rd Division | 16 | 57 | |
| 1987-88 | 4th Division | 2 | 85 | Promoted |
| 1986-87 | 4th Division | 13 | 61 | |
| 1985-86 | 3rd Division | 22 | 45 | Relegated |
| 1984-85 | 2nd Division | 21 | 35 | Relegated |
| 1983-84 | 2nd Division | 15 | 51 | |
| 1982-83 | 3rd Division | 2 | 86 | |
| 1981-82 | 2nd Division | 20 | 44 | |
| 1980-81 | 2nd Division | 19 | 36 | |
| 1979-80 | 2nd Division | 15 | 40 | |
| 1978-79 | 2nd Division | 9 | 42 | |
| 1977-78 | 2nd Division | 19 | 38 | |
| 1976-77 | 2nd Division | 18 | 34 | |
| 1975-76 | 3rd Division | 2 | 57 | Promoted |
| 1974-75 | 2nd Division | 21 | 32 | Relegated |
| 1973-74 | 2nd Division | 17 | 36 | |
| 1972-73 | 2nd Division | 20 | 33 | |
| 1971-72 | 2nd Division | 19 | 34 | |
| 1970-71 | 2nd Division | 3 | 53 | |
| 1969-70 | 2nd Division | 7 | 49 | |
| 1968-69 | 2nd Division | 5 | 47 | |
| 1967-68 | 2nd Division | 13 | 38 | |
| 1966-67 | 2nd Division | 20 | 33 | |
| 1965-66 | 2nd Division | 20 | 34 | |
| 1964-65 | 2nd Division | 13 | 40 | |
| 1963-64 | 2nd Division | 15 | 38 | |
| 1962-63 | 2nd Division | 10 | 43 | |
| 1961-62 | 1st Division | 21 | 32 | Relegated |
| 1960-61 | 1st Division | 15 | 37 | |
| 1959-60 | 2nd Division | 2 | 58 | Promoted |
| 1958-59 | 2nd Division | 9 | 43 | |
| 1957-58 | 2nd Division | 15 | 37 | |
| 1956-57 | 1st Division | 21 | 29 | Relegated |
| 1955-56 | 1st Division | 17 | 39 | |
| 1954-55 | 1st Division | 20 | 37 | |
| 1953-54 | 1st Division | 10 | 44 | |
| 1952-53 | 1st Division | 12 | 40 | |
| 1951-52 | 2nd Division | 2 | 51 | Promoted |
| 1950-51 | 2nd Division | 3 | 50 | |
| 1949-50 | 2nd Division | 10 | 42 | |
| 1948-49 | 2nd Division | 4 | 51 | |
| 1947-48 | 2nd Division | 5 | 47 | |
| 1946-47 | 3rd Division S | 1 | 66 | Promoted |
| 1939-46 | - | - | - | WWII |
| 1938-39 | 3rd Division S | 13 | 41 | |
| 1937-38 | 3rd Division S | 10 | 42 | |
| 1936-37 | 3rd Division S | 18 | 35 | |
| 1935-36 | 3rd Division S | 20 | 36 | |
| 1934-35 | 3rd Division S | 19 | 35 | |
| 1933-34 | 3rd Division S | 22 | 24 | |
| 1932-33 | 3rd Division S | 19 | 31 | |
| 1931-32 | 3rd Division S | 9 | 46 | |
| 1930-31 | 2nd Division | 22 | 25 | Relegated |
| 1929-30 | 2nd Division | 8 | 44 | |
| 1928-29 | 1st Division | 22 | 29 | Relegated |
| 1927-28 | 1st Division | 6 | 44 | |
| 1926-27 | 1st Division | 14 | 41 | |
| 1925-26 | 1st Division | 16 | 39 | |
| 1924-25 | 1st Division | 11 | 43 | |
| 1923-24 | 1st Division | 2 | 57 | |
| 1922-23 | 1st Division | 9 | 43 | |
| 1921-22 | 1st Division | 4 | 48 | |
| 1920-21 | 2nd Division | 2 | 58 | Promoted |
References:
Premier League by Gunnar Persson
Image sources:
Skiff