Borussia Mönchengladbach
Mostly known and respected for its attacking philosophy, Borussia Mönchengladbach is one of the most popular clubs in German football. It's also one of the most successful, having won five Bundesliga titles, three DFB-Pokals and two UEFA Cups, which is notable for a small-town team. The team plays its games at the Borussia-Park, a stadium renowned for its huge Nordkurve terrace with almost 16,000 standing places. The full official name of the club is Borussia VfL 1900 Mönchengladbach e.V. "Vfl" stands for Verein für Bewegungsspiele (in English: "club for physical games"), "1900" for the year of foundation, and "e.V." finally stands for eingetragener Verein (in English: registered association).
Basic facts
Founded: 1900
Country: Germany
City: Mönchengladbach
Home grounds
Bökelbergstadion (1919-2004)
Stadion im Borussia-Park (2004-)
Main trophies
Bundesliga: 5
DFB-Pokal: 3
UEFA Cup: 2
Prominent players
Berti Vogts, Jupp Heynckes, Herbert Wimmer, Günter Netzer, Rainer Bonhof, Allan Simonsen, Lothar Matthäus, Norbert Ringels, Martin Dahlin, Patrik Andersson
Club records
Most games played: Berti Vogts (419)
Top goalscorer: Jupp Heynckes (195)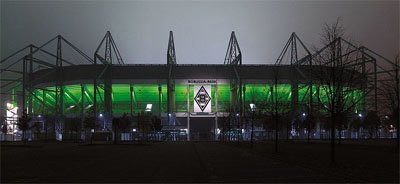 History
The club was founded as FC Borussia in August 1st 1900; the name was borrowed from the Latin spelling of the word Prussia, the region in which the club was situated in. They would change name in 1919 (to 1899 VfTuR M.Gladbach), in 1921 (to Borussia VfL 1900 e.V. M.Gladbach), and finally in 1961 (to Borussia VfL Mönchengladbach).

During its first six decades of existence, Gladbach had enjoyed a moderate amount of success in the local competitions and was mostly known for its fierce rivalry with FC Köln. As fate would have it, Gladbach ended up defeating Köln on the way to its first trophy, the 1960 DFB-Pokal.

While Gladbach was not among the sixteen teams invited for the first Bundesliga season in 1963, the top tier of German football could not evade them for long. Indeed, the club earned their promotion only three years later, at the same time as Bayern Munich. Most of the credit for the club's meteoric rise to excellence goes to Hennes Weisweiler, a coach who brought a breath of fresh air to the club with his brand of attacking football.
Golden era
With Weisweiler at the helm and talented young players like Berti Vogts and Jupp Heynckes in the team, Gladbach became a powerhouse of German football in the 70s. During this golden era, the club won all five of its Bundesliga titles, their second DFB-Pokal and reach four European finals.
Decline
With the club having to sell most of its best players in order to avoid bankruptcy, their fantastic run soon came to an end. After winning its third DFB-Pokal in 1995, Gladbach stopped being regulars in the top half of the Bundesliga and started spending most of its time flirting with the relegation zone.

In 2004, the team moved from the old Bökelberg stadium to the new Stadion im Borussia-Park (Borussia Park) with a capacity of 46,279 seats.
By Martin Wahl
Advertisement

Logo
The club badge of Borussia Mönchengladbach has shifted its design several times over the years. A common feature in most versions is the letter B, which of course stands for Borussia. The current version is in black and white, but in earlier versions green color has also been present.
Borussia VfL Mönchengladbach timeline
1900 The Club is established as FC Borussia.
1919 FC Borussia merged with Turnverein Germania 1889 and change name to 1899 VfTuR M.Gladbach.
1919 The club play their first match at the Bökelbergstadion.
1921 The club is renamed again, this time to Borussia VfL 1900 e.V. M.Gladbach.
1921 The club is renamed for the third time, now to its current name Borussia VfL 1900 Mönchengladbach.
1960 Winning their first DFB-Pokal.
1970 First time Bundesliga winner.
1975 First European cup trophy (UEFA Cup).
2004 The club move to the Borussia-Park.
Trivia
Football clubs also founded in 1900
AFC Ajax


FC Bayern Munich

RCD Espanyol

FC Kaiserslautern

SS Lazio
Champions League record
| Season | Tournament stage | Notes |
| --- | --- | --- |
| 2015-16 | Group stage | |
| 2012-13 | Play-off | |
External links
References:
http://www.liberoguide.com/borussia-monchengladbach/
https://en.wikipedia.org/wiki/Borussia_M%C3%B6nchengladbach
Image source:
Blue Letter