The evolution of football shoes
Football shoes, also called cleats or soccer boots, are special footwear that is worn while playing football (soccer). They are specifically designed for the pitch and the cleats on the sole of the shoe aid the grip during the game. Football boots are by no means a new concept, but they have evolved throughout time thanks to technology and better research.
The Early Days
Before the year 1891, football boots weren't in use. Instead, the players wore work boots. These were obviously hard to maneuver in and quite heavy on the foot. They weren't designed for people to run in or to kick a ball with. Furthermore, they usually had a reinforced toe, sometimes made of steel; this led to injuries whenever one player accidentally kicked another. They also didn't have any kind of additional grip since there was a regulation that footballers couldn't wear any shoes with anything sticking out from them.

A revision around 1891 allowed football shoes to utilize small bars or studs on the shoes. Soon after that, work boots were replaced with actual football boots designed with leather in order to better perform in the sport. They were made of thick leather and were still quite heavy (about 0.5kg dry and heavier if wet). They also laced up the ankle for better protection. This was the beginning of the modern football boots we know of today.
The 1900s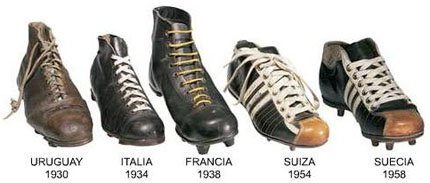 The early decades of the 1900s saw little change for football shoes. The World Wars and their aftermaths left little materials for new creations and, frankly, with so many men involved in the war efforts, the demand for updated boots wasn't there. During this time, however, Valsport and Gola were the popular brands marketed to footballers.

After World War II developers and players took an interest in the sport and the footwear again. At this time, football boots began to change noticeably. New technology and research allowed developers to create flexible boots that were much lighter on the foot. The idea of protecting the players' feet took a backseat to the primary concern of better agility and performance. Besides being lighter, the new football boots also came up a little lower on the leg to improve flexibility. These lower boots were especially popular in places like Southern Europe and South America where conditions were less muddy than England.

In the 1950s, Adidas introduced their own football boot that came with screw-in studs that were interchangeable. The studs were either rubber or plastic and were specifically made to be used in different weather or field conditions. This meant that football players no longer had to have two different pairs of shoes, they could use one boot with interchangeable studs instead.
Over time, football boots became even lighter, but the real change came in their designs. Throughout the early years and into the mid-1900s the boots only came in black, but around the 1970s designers began to experiment with different colors. The material was going through a time of experiments and improvements as well. During this footwear revolution, the most popular and famous football boot was created. It was known as the Predator by Adidas. With rubber strips of the same material used a tennis bat in the top of the shoes the power and the amount of spin on the ball was increased. It was a worldwide sensation.

It was also during this time that professional players were receiving endorsements to wear specific brands of football boots.

In the final years of the 1900s and into the new millennium football shoes evolved further in terms of the soles of the boots. The change came about as developers saw a need for more flexibility. Since there are cleats on the underside of football boots, they were a little stiff to best support the studs. The new developments during this time allowed for the soles to best support the cleats while providing better flexibility and a better range of motion. This evolution was done by most brands but Adidas's Predator still help the top position in terms of use and sales.
Advertisement

Present Day Trends
Thanks to laser technology, football shoes are now able to be customized to best fit an individual's foot. This is a popular trend with professional footballers. Personalization is also a popular option nowadays. For example, professionals now choose to have their name and sometimes their jersey number on their customized boots. The studs were also updated to more of a blade for better grip on the pitch. Rubber and plastic studs are, however, still available. Further technological developments that are believed to continue as the sport grows in popularity are the use of microchips and tracking tools. These are small computerized devices that will be placed in the shoe and allow a player to track their movements and their performance either on a computer or on their smartphone.
Different Types of Shoes
Up until now, all of the football boots that have been discussed have been for outdoor use. In addition, there are indoor football boots that are slightly different than the outdoor variety. The indoor football shoes are built to be used on flat, hard surfaces instead of a grass pitch. These boots have rubber soles with no studding so they have a better grip on hard floors.

It should also be noted that screw-in studs have fallen out of favor due to the frequency of stud-related injuries caused by the metal cleats. Football clubs, like Manchester United, have also issued bans on bladed boots after players were injured.
Shoes Brands
Adidas was the most popular brand for a while, but nowadays there are a number of popular brands. Companies like Nike and Umbro compete right alongside Adidas with big name players endorsing the different brands. Thanks to these endorsements, Nike and Adidas seem to be the most popular brands of football boots with big stars like Cristiano Ronaldo promoting them on and off the pitch.


Over the years, football shoes have taken on different sizes, shapes, and colors, but the main goal of developers have always been providing players with the best possible performance. As technology advances, you can be sure that football boots will continue to evolve, too.
Advertisement