Morocco
Shortly after gaining independence in 1955, Morocco established itself as one of the best teams on the continent. They qualified for the World Cup five times, becoming the first African team to advance past the group stage in 1986. They claimed their first Africa Cup of Nations title in 1976. The team is also known as the Atlas Lions.
Main trophies
Africa Cup of Nations: 1
Player records
Most games played: Noureddine Naybet (115)
Top goalscorer: Ahmed Faras (36)
Stats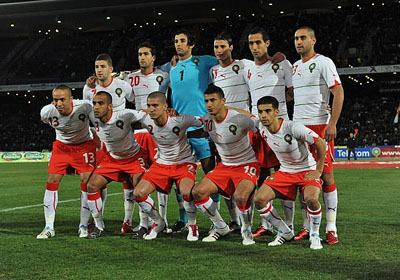 History
Going independent
From 1912 to 1955, Morocco was divided into Spanish and French protectorates. During this period, the unofficial national team started playing friendly matches against other North African selections. In 1954, a combined selection of Maghreb defeated France 3-2 in a charity match organized to raise money for the Chlef earthquake victims and their families. A month later, the Toussaint Rouge attacks marked the start of the Algerian war.
Following a victory in the battle for independence, the Royal Moroccan Football Federation was formed in 1955. The national team made its official debut in 1957, drawing 3-3 against Iraq. Their debut appearance at a major tournament arrived in 1970, when they became the first African team to reach the World Cup through qualifiers. With a draw against Bulgaria and two losses to West Germany and Peru, they finished last in their group.
Advertisement

Biggest successes
The following period saw Morocco starting to make waves at the Africa Cup of Nations. After their inaugural appearance in 1972, they went all the way in 1976. In the deciding match against Guinea, Ahmed Makrouh scored 4 minutes before the final whistle, equalizing the score to 1-1 and leading Morocco to their first title.
Morocco continued to be a major player at the tournament, placing in the top 4 in three of the four tournaments they played in during the next decade. In 1980, they beat Egypt 2-0 in the third-place match after being eliminated by eventual champions Nigeria. In 1986 and 1988, they finished 4th. By this point, Morocco had a respectable team by any standards, with players such as Aziz Bouderbala and Mohamed Timoumi leading the line.
This squad went down in history in 1986, as they became the first African team to make it to the knockout phase at a World Cup. In a tough group, Morocco managed to draw 0-0 with England and Poland and defeat Portugal 3-1 in the final round. These results saw them finish first in their group and face West Germany in the round of 16. In a hard-fought game, Morocco lost 0-1 to a Lothar Matthäus winner mere minutes before the extra time.
Ups and downs
In 1994, Morocco returned to the World Cup after failing to qualify four years prior. Despite finishing the tournament with three losses, they left a solid impression by being competitive in all of their matches. In 1998, they went one step further by defeating Scotland 3-0 and drawing 2-2 with Norway. Their hopes of advancing to the knockout phase were smashed by Norway, which managed to surprise Brazil 2-1 in the final round, taking second place in the process.
This turned out to be Morocco's final appearance at the World Cup in two decades, as they failed to qualify for the following four tournaments. This proved to be a tough era for the Atlas Lions, as the lack of player quality and leadership saw them stuck on a downward spiral. The only bright spot during this period was their appearance at the 2004 AFCON, where they finished as runners-up after losing to Tunisia in the final.
Morocco finally returned to the World Cup in 2018. However, a tough group consisting of Spain, Portugal, and Iran left them with little hope of advancing to the knockout stages. After losing 0-1 to Iran in their opener, they were defeated 0-1 by the Ronaldo-led Portugal and drew 2-2 with Spain in the final round.
World Cup success
The World Cup in Qatar would be the biggest success so far for Moroccan football. They would be the surprise team of the tournament and a step forward for the Arab World in the sport. They first managed to win Group F and when eliminate both Spain and Portugal, cheered on by many fans on the stadiums, which also squealed and whistled against the opponent teams that often had more ball possession. They would lose against France in the semi-finals and when again in the Third place play-off match against Croatia.
FIFA World Cup results
Morocco has participated seven times in the World Cup (FIFA World Cup qualification not included).
Morocco's performances in the World Cup

| Year | Result |
| --- | --- |
| 2022 | Semi-finals |
| 2018 | Group Stage |
| 2014 | Not qualified |
| 2010 | Not qualified |
| 2006 | Not qualified |
| 2002 | Not qualified |
| 1998 | Group Stage |
| 1994 | Group Stage |
| 1990 | Not qualified |
| 1986 | Round of 16 |
| 1982 | Not qualified |
| 1978 | Not qualified |
| 1974 | Not qualified |
| 1970 | Group Stage |
| 1966 | Withdrew |
| 1962 | Not qualified |
| 1958 | Did not participate |
| 1954 | Did not participate |
| 1950 | Did not participate |
| 1938 | Did not participate |
| 1934 | Did not participate |
| 1930 | Did not participate* |
By Martin Wahl
Logo

The logo is dominated by green and red colors, reflecting the colors of the nation's flag. The Federation Royal Marocaine Football is texted in both Roman and Arabic letters as well as written out in abbreviated form. A pentalpha and a crown is present as well and is in different ways associated with the country.
External links
References:
https://en.wikipedia.org/wiki/Morocco_national_football_team
https://en.wikipedia.org/wiki/Morocco_at_the_FIFA_World_Cup
https://en.wikipedia.org/wiki/Morocco_at_the_Africa_Cup_of_Nations
Image source:
Mustapha Ennaimi