Contribute
The goal with FootballHistory.org is to tell the history of the World's biggest game in words and pictures. If you own relevant pictures - pictures of stadiums, persons – it is most appreciated if you let FootballHistory.org publish them on its website (you will of course be attributed as the source).
If your picture(s) is valuable, a smaller sum could be paid (via PayPal) if you wish.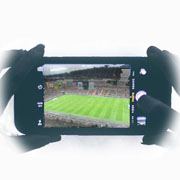 Thank you for contributing! If you have any questions, please email info@footballhistory.org.
Please Note: In accordance with copyright protection, images that you aren't the legal owner of are not of interest. All images are checked through web scanning before being published.