Udinese Calcio
The Italian soccer club Udinese Calcio (more known as just Udinese) was established already in 1896, in the town Udine. They are sometimes called "The Little Zebras" based on their black and white striped shirts. They have so far not won Serie A, but has several top five placements.
Basic facts
Founded: 1896
Country: Italy
City: Udine
Home grounds
Stadio Moretti (1920-1976)
Stadio Friuli (1976-)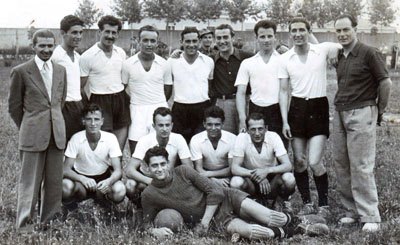 History
Udinese Calcio has never won the top-level league in Italy. They were as best the runner-up in 1954–1955 season, four points behind Milan, although that season was followed by relegation due to corruption. The club, has otherwise, floated across the three first tiers in the league system.

The club is also waiting for the first Coppa Italia trophy. Udinese reached the final in the competition the first time it was played in 1922 and losing to Vado.
They have three international titles: Mitropa Cup (1980), Anglo-Italian Cup once (1978) and Intertoto Cup (2000).
By Oscar Anderson
Advertisement

Udinese Calcio timeline
1896 The club is established.
1950 First Serie A participation.
1976 The club move to the Stadio Friuli.
1980 First Mitropa Cup title.

League statistics
League record
Titles in total: 0
Serie A titles: 0
First participation: 1912-1913
All seasons
| Season | League | Position | Points | Notes |
| --- | --- | --- | --- | --- |
| 2018-19 | Serie A | 12 | 43 | |
| 2017-18 | Serie A | 14 | 40 | |
| 2016-17 | Serie A | 13 | 45 | |
| 2015-16 | Serie A | 17 | 39 | |
| 2014-15 | Serie A | 16 | 41 | |
| 2013-14 | Serie A | 14 | 44 | |
| 2012-13 | Serie A | 5 | 66 | |
| 2011-12 | Serie A | 3 | 64 | |
| 2010-11 | Serie A | 4 | 66 | |
| 2009-10 | Serie A | 15 | 44 | |
| 2008-09 | Serie A | 7 | 58 | |
| 2007-08 | Serie A | 7 | 57 | |
| 2006-07 | Serie A | 10 | 46 | |
| 2005-06 | Serie A | 11 | 43 | |
| 2004-05 | Serie A | 4 | 62 | |
| 2003-04 | Serie A | 7 | 50 | |
| 2002-03 | Serie A | 6 | 56 | |
| 2001-02 | Serie A | 14 | 40 | |
| 2000-01 | Serie A | 12 | 38 | |
| 1999-00 | Serie A | 8 | 50 | |
| 1998-99 | Serie A | 6 | 54 | |
| 1997-98 | Serie A | 3 | 64 | |
| 1996-97 | Serie A | 5 | 54 | |
| 1995-96 | Serie A | 11 | 41 | |
| 1994-95 | Serie B | 2 | 70 | Promoted |
| 1993-94 | Serie A | 16 | 28 | Relegated |
| 1992-93 | Serie A | 14 | 30 | |
| 1991-92 | Serie B | 4 | 44 | Promoted |
| 1990-91 | Serie B | 8 | 38 | |
| 1989-90 | Serie A | 15 | 27 | Relegated |
| 1988-89 | Serie B | 3 | 45 | Promoted |
| 1987-88 | Serie B | 10 | 38 | |
| 1986-87 | Serie A | 16 | 15 | Relegated |
| 1985-86 | Serie A | 13 | 25 | |
| 1984-85 | Serie A | 12 | 25 | |
| 1983-84 | Serie A | 9 | 31 | |
| 1982-83 | Serie A | 6 | 32 | |
| 1981-82 | Serie A | 11 | 26 | |
| 1980-81 | Serie A | 12 | 25 | |
| 1979-80 | Serie A | 13 | 21 | |
| 1978-79 | Serie B | 1 | 55 | Promoted |
| 1977-78 | Serie C | 1 | 58 | Promoted |
| 1976-77 | Serie C | 2 | 51 | |
| 1975-76 | Serie C | 5 | 43 | |
| 1974-75 | Serie C | 3 | 46 | |
| 1973-74 | Serie C | 2 | 47 | |
| 1972-73 | Serie C | 2 | 52 | |
| 1971-72 | Serie C | 3 | 46 | |
| 1970-71 | Serie C | 10 | 37 | |
| 1969-70 | Serie C | 7 | 39 | |
| 1968-69 | Serie C | 6 | 43 | |
| 1967-68 | Serie C | 4 | 46 | |
| 1966-67 | Serie C | 4 | 40 | |
| 1965-66 | Serie C | 2 | 43 | |
| 1964-65 | Serie C | 11 | 32 | |
| 1963-64 | Serie B | 19 | 29 | Relegated |
| 1962-63 | Serie B | 14 | 34 | |
| 1961-62 | Serie A | 18 | 17 | Relegated |
| 1960-61 | Serie A | 15 | 29 | |
| 1959-60 | Serie A | 15 | 28 | |
| 1958-59 | Serie A | 15 | 27 | |
| 1957-58 | Serie A | 9 | 32 | |
| 1956-57 | Serie A | 4 | 36 | |
| 1955-56 | Serie B | 1 | 49 | Promoted |
| 1954-55 | Serie A | 2 | 44 | Enforced relegation |
| 1953-54 | Serie A | 15 | 26 | |
| 1952-53 | Serie A | 10 | 31 | |
| 1951-52 | Serie A | 12 | 34 | |
| 1950-51 | Serie A | 9 | 35 | |
| 1949-50 | Serie B | 2 | 60 | Promoted |
| 1948-49 | Serie C | 1 | 54 | Promoted |
| 1947-48 | Serie B | 11 | 33 | Relegated |
| 1946-47 | Serie B | 11 | 40 | |
| 1945-46 | Serie B | - | - | |
| 1943-45 | - | - | - | WWII |
| 1942-43 | Serie B | - | - | |
| 1941-42 | Serie B | - | - | |
| 1940-41 | Serie B | - | - | |
| 1939-40 | Serie B | - | - | |
| 1938-39 | Serie C | - | - | Promoted |
| 1937-38 | Serie C | - | - | |
| 1936-37 | Serie C | - | - | |
| 1935-36 | Serie C | - | - | |
| 1934-35 | Prima Divisione | - | - | Relegated |
| 1933-34 | Prima Divisione | - | - | |
| 1932-33 | Prima Divisione | - | - | |
| 1931-32 | Serie B | - | - | Relegated |
| 1930-31 | Serie B | - | - | |
| 1929-30 | Prima Divisione | - | - | |
| 1928-29 | Prima Divisione | - | - | |
| 1927-28 | Prima Divisione | - | - | |
| 1926-27 | Prima Divisione | - | - | |
| 1925-26 | Seconda Divisione | - | - | Promoted |
| 1924-25 | Seconda Divisione | - | - | |
| 1923-24 | Seconda Divisione | - | - | |
| 1922-23 | Prima Divisione | - | - | Relegated |
| 1921-22 | Prima Divisione | - | - | |
| 1920-21 | Prima Divisione | - | - | |
| 1919-20 | Prima Divisione | - | - | |
| 1915-19 | - | - | - | WWI |
| 1914-15 | Prima Categoria | - | - | |
| 1913-14 | Prima Categoria | - | - | |
| 1912-13 | Promozione | - | - | |
References:
https://en.wikipedia.org/wiki/Udinese_Calcio
Image sources:
Firstdegano