Swansea City AFC
Swansea is a Welsh football club that has been a member of the British Football League since 1920. In the top tier, where they participated in the 1981-82 season for the first time, they have reached the sixth position as the best. They had won the Football League Cup once and the Welsh Cup on several occasions. Some prominent players through the years are Ron Burges, Terry Medwin and Cliff Jones.
Basic facts
Founded: 1912
Country: Wales
City: Swansea
Home grounds
Vetch Field (1912-2005)
Liberty Stadium (2005-)
Main trophies
Football League Cup: 1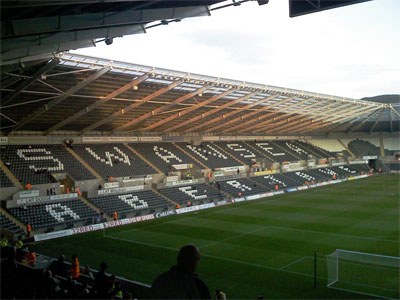 History
The club was founded in 1912 as Swansea Town. It would many years later, in 1970, change its name to Swansea City.

In the early days, they competed in the Welsh Football League besides competing in the Welsh Cup. In 1912, Swansea City was elected to the second division of the English Southern Football League. They got promoted in the 1914-15 season, but played only one season after the war in Southern Football League Division One before being elected to the Football League.
By Oscar Anderson
League statistics
League record
Titles in total: 0
Premier League titles: 0
First participation: 1920-1921
All seasons
| Season | League | Position | Points | Notes |
| --- | --- | --- | --- | --- |
| 2018-19 | Premier League | 10 | 65 | |
| 2017-18 | Premier League | 18 | 33 | Relegated |
| 2016-17 | Premier League | 15 | 41 | |
| 2015-16 | Premier League | 12 | 47 | |
| 2014-15 | Premier League | 8 | 56 | |
| 2013-14 | Premier League | 12 | 42 | |
| 2012-13 | Premier League | 9 | 46 | |
| 2011-12 | Premier League | 11 | 47 | |
| 2010-11 | Championship | 3 | 80 | Promoted |
| 2009-10 | Championship | 7 | 69 | |
| 2008-09 | Championship | 8 | 68 | |
| 2007-08 | League 1 | 1 | 92 | Promoted |
| 2006-07 | League 1 | 7 | 72 | |
| 2005-06 | League 1 | 6 | 71 | |
| 2004-05 | League 2 | 3 | 80 | |
| 2003-04 | 3rd Division | 10 | 59 | |
| 2002-03 | 3rd Division | 21 | 49 | |
| 2001-02 | 3rd Division | 20 | 51 | |
| 2000-01 | 2nd Division | 23 | 37 | Relegated |
| 1999-00 | 3rd Division | 1 | 85 | Promoted |
| 1998-99 | 3rd Division | 7 | 71 | |
| 1997-98 | 3rd Division | 20 | 50 | |
| 1996-97 | 3rd Division | 5 | 71 | |
| 1995-96 | 2nd Division | 22 | 47 | Relegated |
| 1994-95 | 2nd Division | 10 | 71 | |
| 1993-94 | 2nd Division | 13 | 60 | |
| 1992-93 | 2nd Division | 5 | 73 | |
| 1991-92 | 3rd Division | 19 | 56 | Promoted |
| 1990-91 | 3rd Division | 20 | 48 | |
| 1989-90 | 3rd Division | 17 | 54 | |
| 1988-89 | 3rd Division | 12 | 61 | |
| 1987-88 | 4th Division | 6 | 70 | Promoted |
| 1986-87 | 4th Division | 12 | 62 | |
| 1985-86 | 3rd Division | 24 | 43 | Relegated |
| 1984-85 | 3rd Division | 20 | 47 | |
| 1983-84 | 2nd Division | 21 | 29 | Relegated |
| 1982-83 | 1st Division | 21 | 41 | Relegated |
| 1981-82 | 1st Division | 6 | 69 | |
| 1980-81 | 2nd Division | 3 | 50 | Promoted |
| 1979-80 | 2nd Division | 12 | 43 | |
| 1978-79 | 3rd Division | 3 | 60 | Promoted |
| 1977-78 | 4th Division | 3 | 56 | Relegated |
| 1976-77 | 4th Division | 5 | 58 | |
| 1975-76 | 4th Division | 11 | 47 | |
| 1974-75 | 4th Division | 22 | 36 | |
| 1973-74 | 4th Division | 14 | 43 | |
| 1972-73 | 3rd Division | 23 | 37 | Relegated |
| 1971-72 | 3rd Division | 14 | 44 | |
| 1970-71 | 3rd Division | 11 | 46 | Relegated |
| 1969-70 | 4th Division | 3 | 60 | Promoted |
| 1968-69 | 4th Division | 10 | 49 | |
| 1967-68 | 4th Division | 15 | 42 | |
| 1966-67 | 3rd Division | 21 | 39 | Relegated |
| 1965-66 | 3rd Division | 17 | 41 | |
| 1964-65 | 2nd Division | 22 | 32 | Relegated |
| 1963-64 | 2nd Division | 19 | 33 | |
| 1962-63 | 2nd Division | 15 | 39 | |
| 1961-62 | 2nd Division | 20 | 36 | |
| 1960-61 | 2nd Division | 7 | 47 | |
| 1959-60 | 2nd Division | 12 | 40 | |
| 1958-59 | 2nd Division | 11 | 41 | |
| 1957-58 | 2nd Division | 19 | 31 | |
| 1956-57 | 2nd Division | 10 | 45 | |
| 1955-56 | 2nd Division | 10 | 46 | |
| 1954-55 | 2nd Division | 10 | 43 | |
| 1953-54 | 2nd Division | 20 | 34 | |
| 1952-53 | 2nd Division | 11 | 42 | |
| 1951-52 | 2nd Division | 19 | 36 | |
| 1950-51 | 2nd Division | 18 | 36 | |
| 1949-50 | 2nd Division | 8 | 43 | |
| 1948-49 | 3rd Div. S | 1 | 62 | Promoted |
| 1947-48 | 3rd Div. S | 5 | 48 | |
| 1946-47 | 2nd Division | 21 | 29 | Relegated |
| 1939-46 | - | - | - | WWII |
| 1938-39 | 2nd Division | 19 | 34 | |
| 1937-38 | 2nd Division | 18 | 38 | |
| 1936-37 | 2nd Division | 16 | 37 | |
| 1935-36 | 2nd Division | 13 | 39 | |
| 1934-35 | 2nd Division | 17 | 36 | |
| 1933-34 | 2nd Division | 19 | 35 | |
| 1932-33 | 2nd Division | 10 | 42 | |
| 1931-32 | 2nd Division | 15 | 39 | |
| 1930-31 | 2nd Division | 20 | 34 | |
| 1929-30 | 2nd Division | 15 | 37 | |
| 1928-29 | 2nd Division | 19 | 36 | |
| 1927-28 | 2nd Division | 6 | 48 | |
| 1926-27 | 2nd Division | 12 | 43 | |
| 1925-26 | 2nd Division | 5 | 49 | |
| 1924-25 | 3rd Division S | 1 | 57 | Promoted |
| 1923-24 | 3rd Division S | 4 | 52 | |
| 1922-23 | 3rd Division S | 3 | 53 | |
| 1921-22 | 3rd Division S | 10 | 41 | |
| 1920-21 | 3rd Division | 5 | 51 | |
References:
Premier League by Gunnar Persson
Image sources:
Christopher Elkins