HNK Rijeka
Rijeka, a rather average club in former Yugoslavia times, gradually made a name for themselves in independent Croatia, before taking the country's football scene by storm in the 2016-17 season, winning an unbelievable double, ending Dinamo Zagreb's 11-year dominance.
Basic facts
Founded: 1946
Country: Croatia
City: Rijeka
Home grounds
Stadion Kantrida (1946-2015)
Stadion Rujevica (2015-)
Main trophies
Croatian First League: 1
Yugoslav Cup: 2
Croatian Football Cup: 4
Prominent players
Srećko Juričić, Marijan Jantoljak, Anđelo Milevoj, Miloš Hrstić, Ezio Loik, Petar Radaković, Zvjezdan Radin, Vladimir Lukarić, Nenad Gračan, Stojan Osojnak, Velimir Naumović, Damir Desnica, Daniel Šarić, Mladen Mladenović, Josip Skoblar, Boško Balaban, Andrej Kramarić, Kristijan Čaval, Damir Milinović, Dragan Tadić, Andrej Prskalo, Boško Bursać, Ahmad Sharbini, Milan Radović, Mario Gavranović, Alexander Gorgon, Josip Mišić, Filip Bradarić, Josip Elez
Club records
Most games played: Srećko Juričić (351)
Top goalscorer: Boško Bursać (89)
History
Hrvatski Nogometni Klub (Croatian Football Club) Rijeka were founded in 1946 as Sportsko Društvo (Sports Society) Kvarner, with the latter being the name of the region of which Rijeka is the administrative center.
Football in the city had already been popular for years. Unione Sportiva (Sports Union) Fiumana ("Fiume" is how the city was called before 1945 when it passed from Italy to the newly formed SFR – Socialist Federal Republic – of Yugoslavia) had been founded in 1926, had even managed to take part in Italy's top division, and can be seen as a direct predecessor of SD Kvarner, since they used the same stadium (one-of-a-kind Kantrida), and eight of Fiumana's players went on to play for Kvarner as well.
Midfielder Ezio Loik never wore Kvarner's jersey, but in a broader sense he can be considered their first really big player. Born in Rijeka (Fiume) in 1919, he joined Fiumana at the age of 17, and spent a year making 41 appearances and scoring 12 goals.
It was more than enough to get Milan interested in him. After three years at the Rossoneri and two at Venezia, in 1942 he joined Torino, whom he served for seven years, before losing his life in the tragic Superga air disaster, he, and the rest of the so-called "Grande Torino" squad.
A new name
In 1954, SD Kvarner was renamed as NK (Nogometni Klub, Football Club) Rijeka. The only change/addition since then, has been the "H" in front, "Hrvatski", "Croatian", a common first letter in the official names of several clubs of the country, once they demanded and won their independence from former Yugoslavia.
Far behind Dinamo Zagreb and Hajduk Split, Rijeka never managed to finish higher than fourth in the incredibly competitive Yugoslav First League, but they did pick up back-to-back Cup trophies in 1978 and 1979, beating Trepča and Partizan respectively in the finals.
The first decade in newly-independent Croatia had a lost Cup final in 1994 and a second place in the championship in 1999 as highlights.
Advertisement

Raising to fame
It was in the first years of the 21st century that the club really started pushing for more, winning their first Croatian Cup (Hrvatski nogometni kup in Croatian) in 2005, repeating their success in 2006, while also finishing second in the championship.
The end of the 2013-14 season found Rijeka Cup winners again, and second in the championship. Another second place followed next season, and a third consecutive one in 2016, leaving everyone at the club with a bittersweet taste. They had proven they were, finally, a top club in the country, but maybe not good enough to dethrone Dinamo Zagreb.
Finally, in May 2017, in ten days, the club lived something they had been dreaming for decades. First, they won the championship, by beating Cibalia 4-0 at home and after that victory the five-point gap between them and Dinamo was impossible to be covered. Ten days later, Rijeka beat Dinamo where it mattered the most, in the Cup final in neutral Varaždin, winning a truly historic double.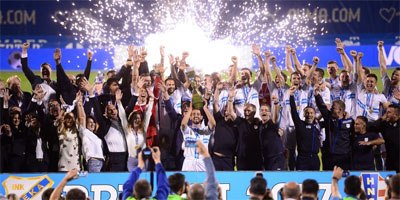 A new Kantrida Stadium
The irony of it is that Rijeka won the championship title using Rujevica Stadium (officially known as HNK Rijeka Stadium), not Kantrida, their traditional home, which was under – spectacular – reconstruction.
Kantrida used to be a unique stadium, squeezed between cliffs and the coast, it used to feature in lists with "the most breathtakingly located" stadiums but it was true that its time was up, Rijeka needed a new modern home, and once the new Kantrida is ready, it will easily be Croatia's most modern football-specific stadium.
Player records
Defender Srećko Juričić played in 684 Rijeka games (351 of those official) between 1974 and 1985, he spent his entire career there, no one else has worn Rijeka's jersey in more games.
Boško Bursać scored 89 goals in official games for Rijeka from 1964 to 1972, being the club's all-time leading goalscorer.
While no one can overlook the numbers and the overall contribution to the club by players who served the team from 1946 until the modern era, members of the 2016-17 squad deserve special mention, no matter if they don't hold any personal records. Goalkeeper Andrej Prskalo played in every single match of the championship. Josip Mišić, Filip Bradarić, Josip Elez, all in their early to mid 20s, played in almost as many games. Mario Gavranović and Alexander Gorgon led the team in scoring. Despite their young age or limited time at the club, they succeeded things that Rijeka legends spent their entire career dreaming of.
By Dimitris Basias
Advertisement

Logo
Rijeka have been using pretty much the same logo since 1954, when the club got renamed from SD Kvarner. To find a drastically different logo someone needs to go back to pre-SFR Yugoslavia times, when Rijeka, the city, was still called by its Italian name, Fiume, and its biggest team was US Fiumana (on the right), a club that can be considered if not a direct predecessor of HNK Rijeka, then at least a very-very close relative.
Trivia
Football clubs also founded in 1946
External links
References:
https://en.wikipedia.org/wiki/HNK_Rijeka
https://hr.wikipedia.org/wiki/HNK_Rijeka
https://en.wikipedia.org/wiki/Srećko_Juričić
https://en.wikipedia.org/wiki/Boško_Bursać
https://en.wikipedia.org/wiki/Ezio_Loik
https://en.wikipedia.org/wiki/Stadion_Kantrida
http://www.nk-rijeka.hr/dobrodoslica-predsjednika/history/?lang=en
Image source:
vijesti.hr