Fenerbahçe SK
Bbased in the Asian side of Istanbul, Fenerbahçe have long ago reached the point of being considered a European great, proof of which is that in 2006, just before celebrating the 100th anniversary of their founding, they were the first Turkish club that got invited to participate in a G-14 (the predecessor of today's European Club Association) conference, an invitation reserved only for top, on and off the field, European clubs.
Basic facts
Founded: 1907
Country: Turkey
City: Istanbul
Home grounds
Şükrü Saracoğlu Stadium (1908-)

Main trophies
Turkish Süper Lig: 19
Turkish Cup: 6
Prominent players
Lefter Küçükandonyadis, Müjdat Yetkiner, Can Bartu, Zeki Rıza Sporel, Cihat Arman, Galip Kulaksızoğlu, Fikret Arıcan, Fikret Kırcan, Burhan Sargun, Nedim Doğan, Cemil Turan, Selçuk Yula, Rıdvan Dilmen, Rüştü Reçber, Volkan Demirel, Uche Okechukwu, Mehmet Aurélio, Alex, Jay-Jay Okocha, Kenneth Andersson, Ariel Ortega, Pierre van Hooijdonk, Nicolas Anelka, Mateja Kežman, Roberto Carlos, Robin van Persie, Harald Schumacher, Elvir Baljić, Aykut Kocaman
Club records
Most games played: Müjdat Yetkiner (763)
Top goalscorer: Zeki Rıza Sporel (470)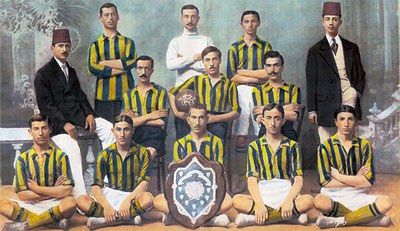 History
Fenerbahçe Spor Kulübü (Sports Club; so it is in fact incorrect to refer to this club as Fenerbahce FC in English) were founded in 1907 but had to stay off the radar for about a year, since back then it was seriously frowned upon by the Ottoman authorities to be involved in a sport that was considered an "import" of the British who lived in Istanbul.
Fenerbahçe is the name of a neighbourhood on the Asian side of the Turkish megalopolis, which the club have called home since the first day of their existence. "Fener" comes from ancient Greek "fanári", "bahçe" is Turkish for "garden", and the name of the neighborhood actually means "the garden of the lighthouse", since it was exactly a lighthouse that used to stick out in that coastal part of Asian Istanbul.
Turkey's first national league champions
Sarı Kanaryalar, "The Yellow Canaries", as the team are affectionately called, were the first winners of the Turkish national league in 1959. Ever since then, they have lifted Turkey's "heaviest" trophy 18 more times, winning six Turkish Cup titles as well along the way.
Fenerbahçe have been very consistent in winning titles since the beginning of the professional era in Turkey, winning three or – more usually – four Championships each decade, with the exception of the nineties, when they finished top only at the end of the 1995-96 season.
It goes without saying that alongside city rivals Galatasaray and Beşiktaş they are the three clubs that have never been relegated from the top Turkish flight. Their biggest rivalry is against Galatasaray, being the yang to their "European" counterpart's yin, kind of completing each other, and always giving one another an extra motive to keep improving, keep pushing for more successes, more titles, more fame and higher prestige.
At international level, Fenerbahçe "touched" a UEFA competition final in 2013. They reached the semi-finals of the Europa League, but despite beating Benfica 1-0 at home, they saw their Portuguese rivals make it through with a 3-1 win in Lisbon. Five years earlier they had reached the quarterfinals of the Champions League, in their best season in Europe's biggest club competition. It was Chelsea who shattered their dream that time. Their 2-1 home win proved just not enough, losing 2-0 in London.
Advertisement

Player records
Müjdat Yetkiner spent his entire career at Fenerbahçe, and wore their jersey more times than any other player in the club's history, from 1980 to 1995. Zeki Rıza Sporel, a legendary figure of Fener's early ages, from 1915 to 1934, has scored more goals wearing their jersey than anyone else. Aykut Kocaman is the club's top goalscorer in the professional era, having played for them from 1988 to 1996. All three are real legends at Fenerbahçe, but even so, none of them comes even close to getting compared with the ultimate Fener legend, Lefter Küçükandonyadis.
Λευτέρης Αντωνιάδης, (Leftéris Antoniádis, he was of Greek descent. "Küçük" is Turkish for "small, little". He was just 1.69 tall), didn't start his career at Fenerbahçe, and he did move to Italy and France after his first four seasons with the Istanbul club, but he did play a total of 15 years for them, scoring hundreds of goals, and his caliber in the club's history is such that it's his statue that someone can see at a small distance from the Şükrü Saracoğlu Stadium.
As for the club's biggest non-player figure, the fact that their stadium has been called "Şükrü Saracoğlu" since 1998, speaks volumes of the importance that former Fener president (and Turkey's 6th Prime Minister) holds at the club. Mehmet Şükrü Saracoğlu was Fenerbahçe's president from 1934 to 1950, retaining the title even during the four years (1942-1946) he served as Turkey's Prime Minister.
Strong on and off the field, Fenerbahçe are surely destined to remain a Turkish and a European great, adding a little bit of Asian touch to the "Old Continent's" football elite.
By Dimitris Basias
Logo
Fenerbahçe's official website describes the club's emblem in perfect detail: "The white section which includes the writing 'Fenerbahçe Spor Kulübü 1907' represents purity and open heartedness, the red section represents love and attachment to the club and symbolizes the Turkish flag. The yellow middle section symbolizes admiration and envy (of other clubs), while the navy symbolizes nobility. The 'oak acorn' leaf which rises from the navy and yellow section shows the power of Fenerbahçe. The green colour of the leaf shows the success of Fenerbahçe which is imperative". Three stars are added to the emblem of the club on the team's jersey, with each star corresponding to five Championship titles won. Fener have 19, so sooner or later a fourth star will be added.
Fenerbahçe SK timeline
1907 The club is established.
1912 The club win their first Istanbul Football League.
1933 First time winner of the Turkish Football Championship.
1937 First time winner of the Turkish National Division.
1945 First time winner of the Prime Minister's Cup.
1959 First Turkish Super League trophy.
1967 First non-domestic trophy (Balkans Cup).
1968 First Turkish Cup title.
2005 Nicolas Anelka is bought from Manchester City as the biggest transfer in the club's history.
Trivia
Football clubs also founded in 1907
External links
References:
https://en.wikipedia.org/wiki/Fenerbahçe_S.K._(football)
https://tr.wikipedia.org/wiki/Fenerbahçe_(futbol_takımı)
https://en.wikipedia.org/wiki/Lefter_Küçükandonyadis
https://en.wikipedia.org/wiki/Müjdat_Yetkiner
https://en.wikipedia.org/wiki/Zeki_Rıza_Sporel
https://en.wikipedia.org/wiki/Aykut_Kocaman
https://en.wikipedia.org/wiki/Şükrü_Saracoğlu
http://www.fenerbahce.org/eng/detay.asp?ContentID=3
http://www.fenerbahce.org/eng/detay.asp?ContentID=16
https://en.wikipedia.org/wiki/Şükrü_Saracoğlu_Stadium
Image source:
1. Unknown
2. Dimitris Basias