Coventry City FC
Coventry City has been a member of the Football League since 1919 and reached the top division for the first time in 1967. Their highest position in Division 1 was the sixth place which happened in the 1969–1970 season. Coventry won the FA Cup in 1987 and have been semi-finalists two times in the Football League Cup.
Basic facts
Founded: 1883
Country: England
City: Coventry
Home grounds
Dowells Field (1883-1887)
Stoke road (1887-1899)
Highfield Road (1899-2005)
Ricoh Arena (2005-)
Main trophies
FA Cup: 1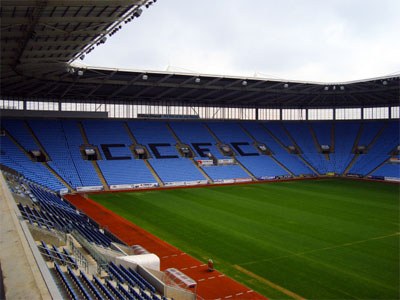 History
The history of the club begins in 1883 as Singers FC (the team was founded by workers on a bicycle fabric called Singers, most known today as a sewing machine company). In 1898, the name was changed to Coventry City FC.
By Oscar Anderson
Trivia
Football clubs also founded in 1883
Raith Rovers FC
League statistics
League record
Titles in total: 0
Premier League titles: 0
First participation: 1919-1920
All seasons
| Season | League | Position | Points | Notes |
| --- | --- | --- | --- | --- |
| 2018-19 | League One | 8 | 65 | |
| 2017-18 | League Two | 6 | 75 | |
| 2016-17 | League One | 23 | 39 | |
| 2015-16 | League One | 8 | 69 | |
| 2014-15 | League One | 17 | 55 | |
| 2013-14 | League One | 18 | 51 | |
| 2012-13 | League One | 15 | 55 | |
| 2011-12 | Championship | 23 | 40 | Relegated |
| 2010-11 | Championship | 18 | 55 | |
| 2009-10 | Championship | 17 | 54 | |
| 2008-09 | Championship | 17 | 54 | |
| 2007-08 | Championship | 21 | 53 | |
| 2006-07 | Championship | 17 | 56 | |
| 2005-06 | Championship | 8 | 63 | |
| 2004-05 | Championship | 19 | 52 | |
| 2003-04 | 1st Division | 12 | 65 | |
| 2002-03 | 1st Division | 20 | 50 | |
| 2001-02 | 1st Division | 11 | 66 | |
| 2000-01 | Premier League | 19 | 34 | Relegated |
| 1999-00 | Premier League | 14 | 44 | |
| 1998-99 | Premier League | 15 | 42 | |
| 1997-98 | Premier League | 11 | 52 | |
| 1996-97 | Premier League | 17 | 41 | |
| 1995-96 | Premier League | 16 | 38 | |
| 1994-95 | Premier League | 16 | 50 | |
| 1993-94 | Premier League | 11 | 56 | |
| 1992-93 | Premier League | 15 | 52 | |
| 1991-92 | 1st Division | 19 | 44 | |
| 1990-91 | 1st Division | 16 | 44 | |
| 1989-90 | 1st Division | 12 | 49 | |
| 1988-89 | 1st Division | 7 | 55 | |
| 1987-88 | 1st Division | 10 | 53 | |
| 1986-87 | 1st Division | 10 | 63 | |
| 1985-86 | 1st Division | 17 | 43 | |
| 1984-85 | 1st Division | 18 | 50 | |
| 1983-84 | 1st Division | 19 | 50 | |
| 1982-83 | 1st Division | 19 | 48 | |
| 1981-82 | 1st Division | 14 | 50 | |
| 1980-81 | 1st Division | 16 | 36 | |
| 1979-80 | 1st Division | 15 | 39 | |
| 1978-79 | 1st Division | 10 | 44 | |
| 1977-78 | 1st Division | 7 | 48 | |
| 1976-77 | 1st Division | 19 | 35 | |
| 1975-76 | 1st Division | 14 | 40 | |
| 1974-75 | 1st Division | 14 | 39 | |
| 1973-74 | 1st Division | 16 | 38 | |
| 1972-73 | 1st Division | 19 | 35 | |
| 1971-72 | 1st Division | 18 | 33 | |
| 1970-71 | 1st Division | 10 | 42 | |
| 1969-70 | 1st Division | 6 | 49 | |
| 1968-69 | 1st Division | 20 | 31 | |
| 1967-68 | 1st Division | 20 | 33 | |
| 1966-67 | 2nd Division | 1 | 59 | Promoted |
| 1965-66 | 2nd Division | 3 | 53 | |
| 1964-65 | 2nd Division | 10 | 43 | |
| 1963-64 | 3rd Division | 1 | 60 | Promoted |
| 1962-63 | 3rd Division | 4 | 53 | |
| 1961-62 | 3rd Division | 14 | 43 | |
| 1960-61 | 3rd Division | 15 | 44 | |
| 1959-60 | 3rd Division | 5 | 52 | |
| 1958-59 | 4th Division | 2 | 60 | Promoted |
| 1957-58 | 3rd Division S | 19 | 39 | Relegated |
| 1956-57 | 3rd Division S | 16 | 44 | |
| 1955-56 | 3rd Division S | 8 | 49 | |
| 1954-55 | 3rd Division S | 9 | 47 | |
| 1953-54 | 3rd Division S | 14 | 45 | |
| 1952-53 | 3rd Division S | 6 | 50 | |
| 1951-52 | 2nd Division | 21 | 34 | Relegated |
| 1950-51 | 2nd Division | 7 | 45 | |
| 1949-50 | 2nd Division | 12 | 39 | |
| 1948-49 | 2nd Division | 16 | 37 | |
| 1947-48 | 2nd Division | 10 | 41 | |
| 1946-47 | 2nd Division | 8 | 45 | |
| 1939-46 | - | - | - | WWII |
| 1938-39 | 2nd Division | 4 | 50 | |
| 1937-38 | 2nd Division | 4 | 52 | |
| 1936-37 | 2nd Division | 8 | 45 | |
| 1935-36 | 3rd Division S | 1 | 57 | Promoted |
| 1934-35 | 3rd Division S | 3 | 51 | |
| 1933-34 | 3rd Division S | 2 | 54 | |
| 1932-33 | 3rd Division S | 6 | 44 | |
| 1931-32 | 3rd Division S | 12 | 44 | |
| 1930-31 | 3rd Division S | 14 | 41 | |
| 1929-30 | 3rd Division S | 6 | 47 | |
| 1928-29 | 3rd Division S | 11 | 42 | |
| 1927-28 | 3rd Division S | 20 | 31 | |
| 1926-27 | 3rd Division S | 15 | 37 | |
| 1925-26 | 3rd Division N | 16 | 38 | |
| 1924-25 | 2nd Division | 22 | 31 | Relegated |
| 1923-24 | 2nd Division | 19 | 35 | |
| 1922-23 | 2nd Division | 18 | 37 | |
| 1921-22 | 2nd Division | 20 | 34 | |
| 1920-21 | 2nd Division | 21 | 35 | |
| 1919-20 | 2nd Division | 20 | 29 | |
References:
https://en.wikipedia.org/wiki/Coventry_City_F.C
Premier League by Gunnar Persson
Image sources:
Julieanne Savage