Burnley FC
Burnley Football Club has been a member of the Football League since its foundation in 1888. Over the years the club has won two league titles (1921 and 1960) plus the FA Cup title once (1914). Some of the biggest profiles in the history of the club are Jerry Dawson, Tom Boyle, Bob Kelly, Jimmy Adamson, Jimmy Mcllroy and John Connelly.
Basic facts
Founded: 1882
Country: England
City: Burnley
Home grounds
Calder Vale (1882-1883)
Turf Moor (1883-)
Main trophies
First Division/Premier League: 2
FA Cup: 1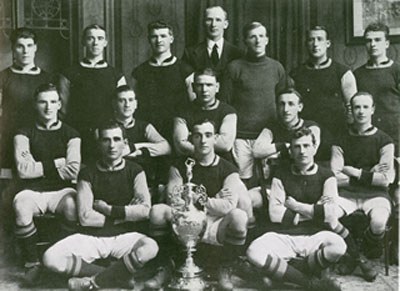 History
The club was founded in 1882 when the Rugby Club Burnley Rovers change sport from rugby to football and become Burnley Football Club.

Besides from two Football League titles, Burnley is one of the most successful teams in the Lancashire Senior Cup with more than ten titles (the first in 1890).
By Oscar Anderson
Trivia
Football clubs also founded in 1882

Tottenham Hotspur FC
League statistics
League record
Titles in total: 0
Premier League titles: 0
First participation: 1888-1889
All seasons
| Season | League | Position | Points | Notes |
| --- | --- | --- | --- | --- |
| 2018-19 | Premier League | 15 | 40 | |
| 2017-18 | Premier League | 7 | 54 | |
| 2016-17 | Premier League | 16 | 40 | |
| 2015-16 | Championship | 1 | 93 | |
| 2014-15 | Premier League | 19 | 33 | Relegated |
| 2013-14 | Championship | 2 | 93 | |
| 2012-13 | Championship | 11 | 61 | |
| 2011-12 | Championship | 13 | 62 | |
| 2010-11 | Championship | 8 | 68 | |
| 2009-10 | Premier League | 18 | 30 | |
| 2008-09 | Championship | 5 | 76 | |
| 2007-08 | Championship | 13 | 62 | |
| 2006-07 | Championship | 15 | 57 | |
| 2005-06 | Championship | 17 | 54 | |
| 2004-05 | Championship | 13 | 60 | |
| 2003-04 | 1st Division | 19 | 53 | |
| 2002-03 | 1st Division | 16 | 55 | |
| 2001-02 | 1st Division | 7 | 75 | |
| 2000-01 | 1st Division | 7 | 72 | |
| 1999-00 | 2nd Division | 2 | 88 | |
| 1998-99 | 2nd Division | 15 | 55 | |
| 1997-98 | 2nd Division | 20 | 52 | |
| 1996-97 | 2nd Division | 9 | 68 | |
| 1995-96 | 2nd Division | 17 | 55 | |
| 1994-95 | 1st Division | 22 | 46 | Relegated |
| 1993-94 | 2nd Division | 6 | 73 | Promoted |
| 1992-93 | 2nd Division | 13 | 61 | |
| 1991-92 | 4th Division | 1 | 83 | Promoted |
| 1990-91 | 4th Division | 6 | 79 | |
| 1989-90 | 4th Division | 16 | 56 | |
| 1988-89 | 4th Division | 16 | 55 | |
| 1987-88 | 4th Division | 10 | 67 | |
| 1986-87 | 4th Division | 22 | 49 | |
| 1985-86 | 4th Division | 14 | 59 | |
| 1984-85 | 3rd Division | 21 | 46 | Relegated |
| 1983-84 | 3rd Division | 12 | 62 | |
| 1982-83 | 2nd Division | 21 | 44 | Relegated |
| 1981-82 | 3rd Division | 1 | 80 | Promoted |
| 1980-81 | 3rd Division | 8 | 50 | |
| 1979-80 | 2nd Division | 21 | 27 | Relegated |
| 1978-79 | 2nd Division | 13 | 40 | |
| 1977-78 | 2nd Division | 11 | 40 | |
| 1976-77 | 2nd Division | 16 | 36 | |
| 1975-76 | 1st Division | 21 | 28 | |
| 1974-75 | 1st Division | 10 | 45 | |
| 1973-74 | 1st Division | 6 | 46 | |
| 1972-73 | 2nd Division | 1 | 62 | Promoted |
| 1971-72 | 2nd Division | 7 | 46 | |
| 1970-71 | 1st Division | 21 | 27 | Relegated |
| 1969-70 | 1st Division | 14 | 39 | |
| 1968-69 | 1st Division | 14 | 39 | |
| 1967-68 | 1st Division | 14 | 38 | |
| 1966-67 | 1st Division | 14 | 39 | |
| 1965-66 | 1st Division | 3 | 55 | |
| 1964-65 | 1st Division | 12 | 42 | |
| 1963-64 | 1st Division | 9 | 44 | |
| 1962-63 | 1st Division | 3 | 54 | |
| 1961-62 | 1st Division | 2 | 53 | |
| 1960-61 | 1st Division | 4 | 51 | |
| 1959-60 | 1st Division | 1 | 55 | |
| 1958-59 | 1st Division | 7 | 48 | |
| 1957-58 | 1st Division | 6 | 47 | |
| 1956-57 | 1st Division | 7 | 46 | |
| 1955-56 | 1st Division | 7 | 44 | |
| 1954-55 | 1st Division | 10 | 43 | |
| 1953-54 | 1st Division | 7 | 46 | |
| 1952-53 | 1st Division | 6 | 48 | |
| 1951-52 | 1st Division | 14 | 40 | |
| 1950-51 | 1st Division | 10 | 42 | |
| 1949-50 | 1st Division | 10 | 45 | |
| 1948-49 | 1st Division | 15 | 38 | |
| 1947-48 | 1st Division | 3 | 52 | |
| 1946-47 | 2nd Division | 2 | 58 | Promoted |
| 1939-46 | - | - | - | WWII |
| 1938-39 | 2nd Division | 14 | 39 | |
| 1937-38 | 2nd Division | 6 | 44 | |
| 1936-37 | 2nd Division | 13 | 42 | |
| 1935-36 | 2nd Division | 15 | 37 | |
| 1934-35 | 2nd Division | 12 | 41 | |
| 1933-34 | 2nd Division | 13 | 42 | |
| 1932-33 | 2nd Division | 19 | 36 | |
| 1931-32 | 2nd Division | 19 | 35 | |
| 1930-31 | 2nd Division | 8 | 45 | |
| 1929-30 | 1st Division | 21 | 36 | Relegated |
| 1928-29 | 1st Division | 19 | 38 | |
| 1927-28 | 1st Division | 19 | 39 | |
| 1926-27 | 1st Division | 5 | 47 | |
| 1925-26 | 1st Division | 20 | 36 | |
| 1924-25 | 1st Division | 19 | 34 | |
| 1923-24 | 1st Division | 17 | 36 | |
| 1922-23 | 1st Division | 15 | 38 | |
| 1921-22 | 1st Division | 3 | 49 | |
| 1920-21 | 1st Division | 1 | 59 | |
| 1919-20 | 1st Division | 2 | 51 | |
| 1915-19 | - | - | - | WWI |
| 1914-15 | 1st Division | 4 | 43 | |
| 1913-14 | 1st Division | 12 | 36 | |
| 1912-13 | 2nd Division | 2 | 50 | Promoted |
| 1911-12 | 2nd Division | 3 | 52 | |
| 1910-11 | 2nd Division | 8 | 41 | |
| 1909-10 | 2nd Division | 14 | 34 | |
| 1908-09 | 2nd Division | 14 | 33 | |
| 1907-08 | 2nd Division | 7 | 46 | |
| 1906-07 | 2nd Division | 7 | 40 | |
| 1905-06 | 2nd Division | 9 | 38 | |
| 1904-05 | 2nd Division | 11 | 30 | |
| 1903-04 | 2nd Division | 5 | 39 | |
| 1902-03 | 2nd Division | 18 | 20 | |
| 1901-02 | 2nd Division | 9 | 30 | |
| 1900-01 | 2nd Division | 3 | 44 | |
| 1899-00 | 1st Division | 17 | 27 | Relegated |
| 1898-99 | 1st Division | 3 | 39 | |
| 1897-98 | 2nd Division | 1 | 48 | Promoted |
| 1896-97 | 1st Division | 16 | 19 | Relegated |
| 1895-96 | 1st Division | 10 | 27 | |
| 1894-95 | 1st Division | 9 | 26 | |
| 1893-94 | 1st Division | 5 | 34 | |
| 1892-93 | 1st Division | 6 | 30 | |
| 1891-92 | Football League | 7 | 26 | |
| 1890-91 | Football League | 8 | 21 | |
| 1889-90 | Football League | 11 | 13 | |
| 1888-89 | Football League | 9 | 17 | |
References:
Premier League by Gunnar Persson
Image sources:
Unknown