Bradford City AFC
Bradford City is a club with a long history, their best performance in the highest domestic league was in 1911 with a fifth position. The same year the club won its only FA Cup title. Over the years, three nicknames have been associated with the club: The Bantams, The Paraders and The Citizens.
Basic facts
Founded: 1903
Country: England
City: Bradford
Home grounds
Valley Parade (1903-)
Main trophies
FA Cup: 1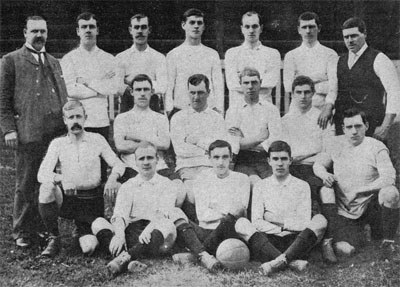 History
Bradford City originates from the Manningham Rugby Football Club and was established in 1903 as Bradford AFC. The club should not be confused with Bradford Park Avenue AFC, another football club founded in the same town four years later.

Things happened rapidly in the early history of this Bradford team. In the same year as they founded, they were elected to the Football League's second division in addition to making their FA Cup debut. In their fifth season, they won Division 2 and got promoted to the top-flight in England. Three years later they won the FA Cup after defeating Newcastle United in the final. The FA Cup victory remains the biggest trophy as well as the 1910s remains as the superior era of Bradford City.
By Oscar Anderson
Advertisement

Trivia
Football clubs also founded in 1903
Athletic Bilbao

Atlético Madrid

Beşiktaş JK


Boavista FC


Grêmio
League statistics
League record
Titles in total: 0
Premier League titles: 0
First participation: 1903-1904
All seasons
| Season | League | Position | Points | Notes |
| --- | --- | --- | --- | --- |
| 2018-19 | League One | 24 | 41 | |
| 2017-18 | League One | 11 | 63 | |
| 2016-17 | League One | 5 | 79 | |
| 2015-16 | League One | 5 | 80 | |
| 2014-15 | League One | 7 | 65 | |
| 2013-14 | League One | 11 | 59 | |
| 2012-13 | League Two | 7 | 69 | |
| 2011-12 | League Two | 18 | 50 | |
| 2010-11 | League Two | 18 | 52 | |
| 2009-10 | League Two | 14 | 62 | |
| 2008-09 | League Two | 9 | 67 | |
| 2007-08 | League Two | 10 | 62 | |
| 2006-07 | League One | 22 | 47 | |
| 2005-06 | League One | 11 | 61 | |
| 2004-05 | League One | 11 | 65 | |
| 2003-04 | 1st Division | 23 | 36 | |
| 2002-03 | 1st Division | 19 | 52 | |
| 2001-02 | 1st Division | 15 | 55 | |
| 2000-01 | Premier League | 20 | 26 | Relegated |
| 1999-00 | Premier League | 17 | 36 | |
| 1998-99 | 1st Division | 2 | 87 | Promoted |
| 1997-98 | 1st Division | 13 | 57 | |
| 1996-97 | 1st Division | 21 | 48 | |
| 1995-96 | 2nd Division | 6 | 73 | Promoted |
| 1994-95 | 2nd Division | 14 | 60 | |
| 1993-94 | 2nd Division | 7 | 70 | |
| 1992-93 | 2nd Division | 10 | 68 | |
| 1991-92 | 3rd Division | 16 | 58 | Promoted |
| 1990-91 | 3rd Division | 8 | 70 | |
| 1989-90 | 2nd Division | 23 | 41 | Relegated |
| 1988-89 | 2nd Division | 14 | 56 | |
| 1987-88 | 2nd Division | 4 | 77 | |
| 1986-87 | 2nd Division | 10 | 55 | |
| 1985-86 | 2nd Division | 13 | 54 | |
| 1984-85 | 3rd Division | 1 | 94 | Promoted |
| 1983-84 | 3rd Division | 7 | 71 | |
| 1982-83 | 3rd Division | 12 | 61 | |
| 1981-82 | 4th Division | 2 | 91 | Promoted |
| 1980-81 | 4th Division | 14 | 44 | |
| 1979-80 | 4th Division | 5 | 60 | |
| 1978-79 | 4th Division | 15 | 43 | |
| 1977-78 | 3rd Division | 22 | 34 | Relegated |
| 1976-77 | 4th Division | 4 | 59 | Promoted |
| 1975-76 | 4th Division | 17 | 41 | |
| 1974-75 | 4th Division | 10 | 47 | |
| 1973-74 | 4th Division | 8 | 48 | |
| 1972-73 | 4th Division | 16 | 43 | |
| 1971-72 | 3rd Division | 24 | 32 | Relegated |
| 1970-71 | 3rd Division | 19 | 40 | |
| 1969-70 | 3rd Division | 10 | 46 | |
| 1968-69 | 4th Division | 4 | 56 | Promoted |
| 1967-68 | 4th Division | 5 | 57 | |
| 1966-67 | 4th Division | 11 | 48 | |
| 1965-66 | 4th Division | 23 | 37 | |
| 1964-65 | 4th Division | 19 | 32 | |
| 1963-64 | 4th Division | 5 | 56 | |
| 1962-63 | 4th Division | 23 | 32 | |
| 1961-62 | 4th Division | 5 | 51 | |
| 1960-61 | 3rd Division | 22 | 36 | Relegated |
| 1959-60 | 3rd Division | 19 | 42 | |
| 1958-59 | 3rd Division | 11 | 47 | |
| 1957-58 | 3rd Division N | 3 | 57 | |
| 1956-57 | 3rd Division N | 9 | 52 | |
| 1955-56 | 3rd Division N | 8 | 49 | |
| 1954-55 | 3rd Division N | 21 | 36 | |
| 1953-54 | 3rd Division N | 5 | 53 | |
| 1952-53 | 3rd Division N | 16 | 46 | |
| 1951-52 | 3rd Division N | 15 | 42 | |
| 1950-51 | 3rd Division N | 7 | 52 | |
| 1949-50 | 3rd Division N | 19 | 32 | |
| 1948-49 | 3rd Division N | 22 | 29 | |
| 1947-48 | 3rd Division N | 14 | 40 | |
| 1946-47 | 3rd Division N | 5 | 50 | |
| 1939-46 | - | - | - | WWII |
| 1938-39 | 2nd Division | 17 | 35 | |
| 1937-38 | 2nd Division | 7 | 43 | |
| 1936-37 | 2nd Division | 20 | 33 | |
| 1935-36 | 2nd Division | 16 | 37 | |
| 1934-35 | 2nd Division | 15 | 38 | |
| 1933-34 | 2nd Division | 5 | 49 | |
| 1932-33 | 2nd Division | 8 | 42 | |
| 1931-32 | 2nd Division | 6 | 49 | |
| 1930-31 | 2nd Division | 6 | 46 | |
| 1929-30 | 2nd Division | 4 | 50 | |
| 1928-29 | 2nd Division | 3 | 48 | |
| 1927-28 | 3rd Division N | 1 | 63 | Promoted |
| 1926-27 | 3rd Division N | 3 | 55 | |
| 1925-26 | 3rd Division N | 2 | 60 | |
| 1924-25 | 3rd Division N | 5 | 50 | |
| 1923-24 | 3rd Division N | 5 | 52 | |
| 1922-23 | 3rd Division N | 2 | 47 | |
| 1921-22 | 2nd Division | 22 | 33 | Relegated |
| 1920-21 | 1st Division | 22 | 24 | Relegated |
| 1919-20 | 1st Division | 11 | 42 | |
| 1915-19 | - | - | - | WWI |
| 1914-15 | 1st Division | 10 | 40 | |
| 1913-14 | 1st Division | 9 | 38 | |
| 1912-13 | 1st Division | 13 | 35 | |
| 1911-12 | 1st Division | 11 | 38 | |
| 1910-11 | 1st Division | 5 | 45 | |
| 1909-10 | 1st Division | 7 | 42 | |
| 1908-09 | 1st Division | 18 | 34 | Promoted |
| 1907-08 | 2nd Division | 1 | 54 | |
| 1906-07 | 2nd Division | 5 | 47 | |
| 1905-06 | 2nd Division | 11 | 34 | |
| 1904-05 | 2nd Division | 8 | 32 | |
| 1903-04 | 2nd Division | 10 | 31 | |
References:
https://en.wikipedia.org/wiki/Bradford_City_A.F.C
Image sources:
Unknown