Bologna FC
The Italian soccer club Bolgna FC was established in 1909 and was one of the founding members of Serie A. They have won Serie A on occasions, the first time in the season 1924-1925. They have also won the Coppa Italia twice, the Mitropa Cup trice and the UEFA Intertoto Cup once.
Basic facts
Founded: 1909
Country: Italy
City: Bologna
Home grounds
Stadio Sterlino (1913-1927)
Stadio Renato Dall'Ara (1927-)
Main trophies
Prima Divisione / Serie A: 7
Coppa Italia: 2
Prominent players
Eraldo Monzeglio, Ivan Jensen, Bernard Vukas, Giacomo Bulgarelli, Gianluca Pagliuca, Roberto Baggio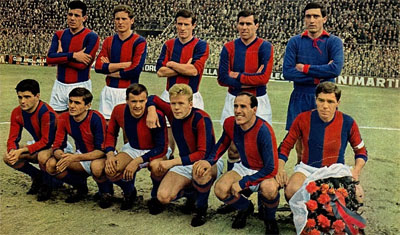 History
An important person in the foundation of the club was the Austrian Emilio Arnstein. Inspired by the British football that dominated the game under this period, the club was used the letters FC (Football Club) in the name in addition to the name of the city. The club is also referred to as Bologna FC 1909 including the year of its inception.

Bologna FC was among the 18 founding members when Serie A was initiated in 1929. Before that, they played in Divisione Nazionale, at this period the top level of the Italian club football. The Divisione Nazionale winner were decided by two-legged finals. Bologna won their first title in 1925 after beating Alba Roma in the final.
By Oscar Anderson
Advertisement

Bologna FC timeline
1909 The club is established.
1925 First league title.
1925 First Mitropa Cup title.
1970 First Coppa Italia title.

Trivia
Football clubs also founded in 1909

Borussia Dortmund

Budapest Honvéd FC

SC Internacional

Real Sociedad
League statistics
League record
Titles in total: 7
Serie A titles: 5
First participation: 1909-1910
First title: 1924-1925
All seasons
| Season | League | Position | Points | Notes |
| --- | --- | --- | --- | --- |
| 2018-19 | Serie A | 10 | 44 | |
| 2017-18 | Serie A | 15 | 39 | |
| 2016-17 | Serie A | 15 | 41 | |
| 2015-16 | Serie A | 14 | 42 | |
| 2014-15 | Serie B | 4 | 68 | Promoted |
| 2013-14 | Serie A | 19 | 29 | Relegated |
| 2012-13 | Serie A | 13 | 44 | |
| 2011-12 | Serie A | 9 | 51 | |
| 2010-11 | Serie B | 16 | 42 | |
| 2009-10 | Serie A | 17 | 42 | |
| 2008-09 | Serie A | 17 | 37 | |
| 2007-08 | Serie B | 84 | 2 | Promoted |
| 2006-07 | Serie B | 65 | 7 | |
| 2005-06 | Serie B | 64 | 8 | |
| 2004-05 | Serie A | 17 | 42 | Relegated |
| 2003-04 | Serie A | 12 | 39 | |
| 2002-03 | Serie A | 11 | 41 | |
| 2001-02 | Serie A | 7 | 52 | |
| 2000-01 | Serie A | 10 | 43 | |
| 1999-00 | Serie A | 11 | 40 | |
| 1998-99 | Serie A | 9 | 44 | |
| 1997-98 | Serie A | 8 | 48 | |
| 1996-97 | Serie A | 7 | 49 | |
| 1995-96 | Serie B | 1 | 81 | Promoted |
| 1994-95 | Serie C1 | 1 | 65 | Promoted |
| 1993-94 | Serie C1 | 4 | 58 | |
| 1992-93 | Serie B | 18 | 30 | Relegated |
| 1991-92 | Serie B | 11 | 36 | |
| 1990-91 | Serie A | 18 | 22 | Relegated |
| 1989-90 | Serie A | 8 | 34 | |
| 1988-89 | Serie A | 14 | 29 | |
| 1987-88 | Serie B | 1 | 51 | Promoted |
| 1986-87 | Serie B | 10 | 36 | |
| 1985-86 | Serie B | 6 | 41 | |
| 1984-85 | Serie B | 9 | 36 | |
| 1983-84 | Serie C1 | 2 | 48 | Promoted |
| 1982-83 | Serie B | 18 | 32 | Relegated |
| 1981-82 | Serie A | 15 | 23 | Relegated |
| 1980-81 | Serie A | 7 | 29 | |
| 1979-80 | Serie A | 7 | 30 | |
| 1978-79 | Serie A | 13 | 24 | |
| 1977-78 | Serie A | 12 | 26 | |
| 1976-77 | Serie A | 7 | 32 | |
| 1975-76 | Serie A | 7 | 32 | |
| 1974-75 | Serie A | 7 | 32 | |
| 1973-74 | Serie A | 9 | 29 | |
| 1972-73 | Serie A | 7 | 31 | |
| 1971-72 | Serie A | 11 | 25 | |
| 1970-71 | Serie A | 5 | 34 | |
| 1969-70 | Serie A | 10 | 28 | |
| 1968-69 | Serie A | 9 | 29 | |
| 1967-68 | Serie A | 5 | 33 | |
| 1966-67 | Serie A | 3 | 45 | |
| 1965-66 | Serie A | 2 | 46 | |
| 1964-65 | Serie A | 6 | 34 | |
| 1963-64 | Serie A | 1 | 54 | 7th league title |
| 1962-63 | Serie A | 4 | 42 | |
| 1961-62 | Serie A | 4 | 45 | |
| 1960-61 | Serie A | 9 | 31 | |
| 1959-60 | Serie A | 5 | 36 | |
| 1958-59 | Serie A | 10 | 31 | |
| 1957-58 | Serie A | 6 | 34 | |
| 1956-57 | Serie A | 5 | 35 | |
| 1955-56 | Serie A | 5 | 37 | |
| 1954-55 | Serie A | 4 | 40 | |
| 1953-54 | Serie A | 6 | 36 | |
| 1952-53 | Serie A | 5 | 39 | |
| 1951-52 | Serie A | 16 | 33 | |
| 1950-51 | Serie A | 6 | 41 | |
| 1949-50 | Serie A | 15 | 32 | |
| 1948-49 | Serie A | 5 | 41 | |
| 1947-48 | Serie A | 8 | 40 | |
| 1946-47 | Serie A | 5 | 39 | |
| 1945-46 | Divisione Nazionale | 6 | 26 | |
| 1943-45 | - | - | - | WWII |
| 1942-43 | Serie A | 6 | 29 | |
| 1941-42 | Serie A | 7 | 29 | |
| 1940-41 | Serie A | 1 | 39 | 6st league title |
| 1939-40 | Serie A | 2 | 41 | |
| 1938-39 | Serie A | 1 | 42 | 5th league title |
| 1937-38 | Serie A | 5 | 37 | |
| 1936-37 | Serie A | 1 | 42 | 4th league title |
| 1935-36 | Serie A | 1 | 40 | 3rd league title |
| 1934-35 | Serie A | 6 | 30 | |
| 1933-34 | Serie A | 4 | 42 | |
| 1932-33 | Serie A | 3 | 42 | |
| 1931-32 | Serie A | 2 | 50 | |
| 1930-31 | Serie A | 3 | 48 | |
| 1929-30 | Serie A | 7 | 36 | |
| 1928-29 | Divisione Nazionale | | | 2nd league title |
| 1927-28 | Divisione Nazionale B | | | |
| 1926-27 | Divisione Nazionale B  | | | |
| 1925-26 | Prima Categoria | | | |
| 1924-25 | Prima Divisione | | | 1st league title |
| 1923-24 | Prima Divisione | | | |
| 1922-23 | Prima Divisione | | | |
| 1921-22 | Prima Categoria | | | |
| 1920-21 | Prima Categoria | | | |
| 1919-20 | Prima Categoria | | | |
| 1915-19 | - | | - | WWI |
| 1914-15 | Prima Categoria | | | |
| 1913-14 | Prima Categoria | | | |
| 1912-13 | Prima Categoria | | | |
| 1911-12 | Prima Categoria | | | |
| 1910-11 | Prima Categoria | | | |
| 1909-10 | Prima Categoria | | | |
References:
https://en.wikipedia.org/wiki/Bologna_FC_1909
https://en.wikipedia.org/wiki/Stadio_Sterlino
https://en.wikipedia.org/wiki/Stadio_Renato_Dall%27Ara
Image sources:
Unknown