World Cup 1994
The 15th World Cup was played in United States from 17 June to 17 July. The final stage of FIFA World Cup was preceded by a qualification that included 147 national teams. Among these 24 would go on to the World Cup final tournament, including the automatically qualified United Stated as the home team and Germany as the reigning champions. Greece, Nigeria and Saudi Arabia had succeeded in qualifying for the first time.
Official poster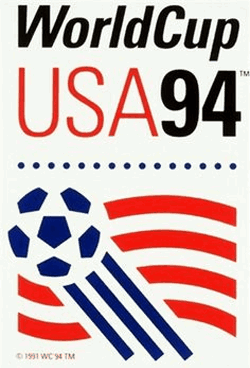 Participating teams
Argentina
Belgium
Bolivia
Brazil
Bulgaria
Cameroon
Colombia
Germany
Greece
Italy
Mexico
Morocco
Netherlands
Nigeria
Norway
Republic of Ireland
Romania
Russia
Saudi Arabia
South Korea
Spain
Sweden
Switzerland
Unites States
Winners, 2nd & 3rd place
Top scorers
Hristo Stoichkov (6 goals)
Russia Oleg Salenko (6 goals)
Romário (5 goals)
Roberto Baggio (5 goals)
Jürgen Klinsmann (5 goals)
Kennet Andersson (5 goals)
Cities and stadiums
Los Angeles (Rose Bowl)
San Francisco (Stanford Stadium)
Detroit (Pontiac Silverdome)
New York (Giants Stadium)
Dallas (Cotton Bowl)
Chicago (Soldier Field)
Orlando (Citrus Bowl)
Boston (Foxboro Stadium)
Washington D.C. (RFK Stadium)
Average attendance: 68,991
Background
Due to the fact that the 1990 World Cup had produced the lowest goals per match figure ever in the tournament, FIFA made some changes with the idea to create a more offensive game in the 1994 World Cup. The goalkeeper should no longer be allowed to take up the ball with his hands if the ball had come from a teammate. Another rule change was that a player that fouled another player with the ball and only the goalkeeper between himself and the goal would get a red card. A third rule change was that a team gained three instead of two points for a win.
Referees had also got instructions to be harder on fouls and the line referees were instructed to blow for offside only when completely sure (a somewhat strange criterion). Apart from the new rules the referees would for the first time no longer wear traditionally black shirts.
The rules changes reach their goals in terms that the 1994 World Cup was characterized by attacking game, relatively speaking, the goals per match were actually not much higher than in 1990.
Format
Same set-up was used as in the previous World Cup tournament. The teams were divided into six four groups from which the best two teams in each plus four third placed teams advanced to a knockout phase.
Tournament
The two biggest sensations in the tournament were Sweden and Bulgaria. Sweden, elevated to a new level by players like Tomas Brolin and Martin Dahlin, was near their second World Cup final and Bulgaria, with the Barcelona player Hristo Stoichkov, could have reached their first. Instead, the teams would meet each other in the match of third place.

The World Cup trophy would once again be lifted by Brazilians players and their striker Romário was arguably the biggest reason to it. The last game was, however an example of how hesitant and careful a final in big football tournaments sometimes tend to be.
Two events that not occurred chiefly on the pitch shadowed the sporting aspects. The first was Diego Maradona that abruptly departed from the tournament after testing positive for ephedrine, a non allowed substance used for weight loss. Maradona had made a comeback in the Argentinian national team and had lost 20 pounds in a short time. He showed some brilliance on the field against Greece, but Argentina had to manage without him in the remaining matches (his substitute Ortega whos playing style mirrored Maradona's got instead a breakthrough).
The second event that gave a shadow over the tournament was the gruesome murder of the Colombian defender Andrés Escobar whose unlucky own goal against United States would lead to him getting murdered after he returned to Colombia.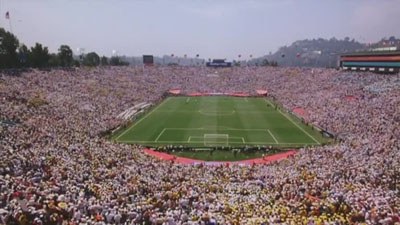 The mighty Rose Bowl stadium is packed.
Cities and arenas
The 1994 World Cup was played in nine cities and with the same amount of arenas. For the first time some matches would be played indoor, in the Pontiac Silverdome.
Stats
FIFA World Cup 1994 would include 52 matches in which 141 goals were made (2,71 goals per match). A new record in the tournament's history was made by Russian Oleg Salenko who became the first player to score five goals in one match. Another record was set by the Cameroonian Roger Milla, who became the oldest player (42 years and 39 days) to play in the tournament.
Results
Brazil would defeat Italy in the final and for the first time in World Cup history the final match would be a draw after both ordinary match time and extra time. The match would therefore be decided by a penalty shootout in which Brazil won after Italy had missed their third penalty.
Show matches and results
Hide matches and results
Group A
Switzerland - United States 1–1
Colombia - Romania 1–3
Romania - Switzerland 1–4
United States - Colombia 2–1
Romania - United States 0–1
Switzerland - Colombia 0–2
Group B
Cameroon - Sweden 2–2
Brazil - Russia 2–0
Brazil - Cameroon 3–0
Sweden - Russia 3–1
Russia - Cameroon 6–1
Brazil - Sweden 1–1
Group C
Germany - Bolivia 1–0
Spain - Korea Republic 2–2
Germany - Spain 1–1
Korea Republic - Bolivia 0–0
Bolivia - Spain 1–3
Germany - Korea Republic 3–2
Group D
Argentina - Greece 4–0
Nigeria - Bulgaria 3–0
Argentina - Nigeria 2–1
Bulgaria - Greece 4–0
Greece - Nigeria 0–2
Argentina - Bulgaria 0–2
Group E
Italy - Ireland 0–1
Norway - Mexico 1–0
Italy - Norway 1–0
Mexico - Ireland 2–1
Italy - Mexico 1–1
Ireland - Norway 0–0

Group F
Belgium - Morocco 1–0
Netherlands - Saudi Arabia 2–1
Saudi Arabia - Morocco 2–1
Belgium - Netherlands 1–0
Morocco - Netherlands 1–2
Belgium - Saudi Arabia 0–1
Round of 16
Spain - Switzerland 3–0
Germany - Belgium 3–2
Saudi Arabia - Sweden 1–3
Romania - Argentina 3–2
Brazil - United States 1–0
Netherlands - Ireland 2–0
Nigeria - Italy 1–2 a.e.t
Mexico - Bulgaria 1–1 a.e.t penalties 1–3
Quarter-finals
Italy - Spain 2–1
Netherlands - Brazil 2–3
Sweden - Romania 2–2 a.e.t penalties 5–4
Bulgaria - Germany 2–1
Semi-finals
Bulgaria - Italy 1–2
Sweden - Brazil 0–1
Third place match
Sweden - Bulgaria 4–0
Final
Brazil - Italy 0–0 a.e.t penalties 4–1
Penalty shootout in the final.
References:
https://en.wikipedia.org/wiki/1994_FIFA_World_Cup
VM-boken by Jesper Hoegstrom
Image source:
BBC - World Cup Film 1994