World Cup 1986
The 13th World Cup was played in Mexico from 31 May to 29 June. In the final phase of the FIFA World Cup 24 teams were participating after a qualification that included 121 nations. As host nation, Mexico was automatically qualified.
Official poster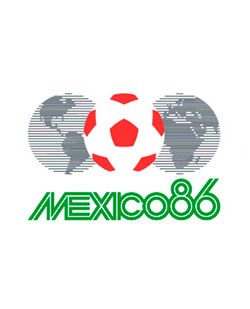 Participating teams
Algeria
Argentina
Belgium
Brazil
Bulgaria
Canada
Denmark
England
France
Hungary
Italy
Iraq
Mexico
Morocco
Northern Ireland
Paraguay
Poland
Portugal
Scotland
Soviet Union
Spain
South Korea
West Germany
Uruguay
Winners, 2nd & 3rd place
Argentina

West Germany

France
Top scorers
Gary Lineker (6 goals)
Diego Maradona (5 goals)
Emilio Butragueño (5 goals)
Careca (5 goals)
Cities and stadiums
Mexico City (Estadio Azteca)
Mexico City (Estadio Olímpico Universitario)
Guadalajara (Estadio Jalisco)
Puebla (Estadio Cuauhtémo)
San Nicolás de los Garza (Estadio Universitario)
Monterrey (Estadio Tecnológico)
Nezahualcóyotl (Estadio Neza 86)
Irapuato (Estadio Sergio León Chávez)
Zapopan (Estadio Tres de Marzo)
Querétaro (Estadio La Corregidora)
León (Estadio Nou Camp)
Toluca (Estadio Nemesio Díez)
Average attendance: 46,026
Background
The 13th World Cup was actually planned to be arranged in Columbia, but a country in economic crises decided to back out of the large arrangement. The United States and Canada wanted both to take over as host nation, but Mexico was chosen. A controversial decision since Mexico already had been the host once and rather recently as well (1970); money had a big role in the outcome.
The hostship of Mexico was however in jeopardy after a major earthquake in Mexico City, causing thousands of casualties eight months before the tournament. But the country managed to go through the event in line with plans.
Before the World Cup final should begin some of the anticipated stars of the tournament were Enzo Francescoli, Michel Platini, Karl-Heinz Rummenigge, Gary Lineker, Hugo Sánchez, Michael Laudrup and Diego Maradona. It turns out to be Diego Maradona's World Cup and perhaps no player before had managed to raise above all other players in a World Cup tournament like he had done in 1986.
Format
The format consisted of a group phase of six groups (two teams from every group plus four third-placed teams advanced on) and a knockout phase. The knockout phase directly after a group phase instead of a second group phase meant a restoration of the set-up used in 1970 and several other earlier tournaments.
Tournament
When the expansion to 24 teams had been implemented in 1982 two groups rounds been practised. In 1986 a different format were used with 16 out of 24 teams advancing from the groups to a knockout stage. This resulted in two teams (Bulgaria and Uruguay) did advance to the knockout phase despite no won matches and one lost match.

The biggest sensation in the group phase was not Argentina, however, but arguably Denmark that in its first World Cup final ever won all games in the group phase and much thanks to the team's attack consisting of Michael Laudrup and Preben Elkjær. The saga would abruptly end in the knockout stage after a 1-5 defeat against Spain.

The home team boosted by passionate audience and the Real Madrid striker Hugo Sánchez would redeem the nation until a cold shower against West Germany in the Quarter-final.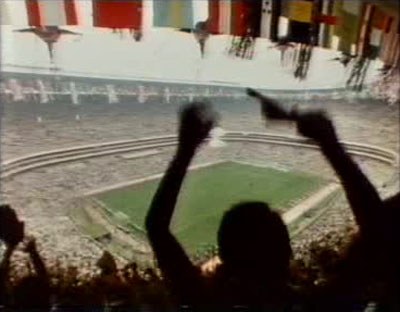 Engaged crowd before the premiere match with the home team.
One of the high points of the tournament was the quarter-final match between Brazil and France in which France finally won after a penalty shoot-out. France would in the next match experience West Germanys ability to be best when it means the most. In the final West Germany was the underdog against Maradona's Argentina.
Cities and arenas
The 1986 World Cup was played at twelve stadiums in eleven cities. The biggest stadium was Estadio Azteca with capacity for 114 600 people and it became also the first arena in which the World Cup final had been played in twice).
Stats
FIFA World Cup 1986 would include 52 matches in which 132 goals were made (2,54 goals per match). Eigth red cards and 135 yellow cards were shown during the tournament.
Results
Argentina, Italy, Bulgaria, Mexico, Paraguay, Belgium, Soviet Union, France, Brazil, Spain, Denmark, West Germany, Morocco, England and Poland succeed to advance from the group phase into the knockout stage.

Argentina, West Germany, France, England, Mexico, Belgium, Brazil and Spain won the matches in the Round of 16.

Argentina, West Germany, France and Spain won the matches in the Quarter-finals.

Argentina and West Germany won the semi-finals and would go to the final. France would beat Belgium in the third place match and Argentina defeated West Germany in the final with 3-2.
Show matches and results
Hide matches and results
Group A
Bulgaria - Italy 1–1
Argentina - South Korea 3–1
Italy - Argentina 1–1
South Korea - Bulgaria 1–1
South Korea - Italy 2–3
Argentina - Bulgaria 2–0
Group B
Belgium - Mexico 1–2
Paraguay - Iraq 1–0
Mexico - Paraguay 1–1
Iraq - Belgium 1–2
Iraq - Mexico 0–1
Paraguay - Belgium 2–2

Group C
Canada - France 0–1
Soviet Union - Hungary 6–0
France - Soviet Union 1–1
Hungary - Canada 2–0
Soviet Union - Canada 2–0
Hungary - France 0–3
Group D
Spain - Brazil 0–1
Algeria - Northern Ireland 1–1
Brazil - Algeria 1–0
Northern Ireland - Spain 1–2
Northern Ireland - Brazil 0–3
Algeria - Spain 0–3
Group E
Uruguay - West Germany 1–1
Scotland - Denmark 0–1
Denmark - Uruguay 6–1
West Germany - Scotland 2–1
Scotland - Uruguay 0–0
Denmark - West Germany 2–0
Group F
Morocco - Poland 0–0
Portugal - England 1–0
England - Morocco 0–0
Poland - Portugal 1–0
England - Poland 3–0
Portugal - Morocco 1–3
Round of 16
Soviet Union - Belgium 3–4 a.e.t
Mexico - Bulgaria 2–0
Argentina - Uruguay 1–0
Brazil - Poland 4–0
Morocco - West Germany 0–1
Italy - France 0–2
Denmark - Spain 1–5
England - Paraguay 3–0
Quarter-finals
Brazil - France 1–1 a.e.t penalties 4–3
West Germany - Mexico 0–0 a.e.t penalties 4–1
Argentina - England 2–1
Spain - Belgium 1–1 a.e.t penalties 5–4
Semi-finals
France - West Germany 0–2
Argentina - Belgium 2–0
Third place match
France - Belgium 4–2 a.e.t
Final
Argentina - West Germany 3–2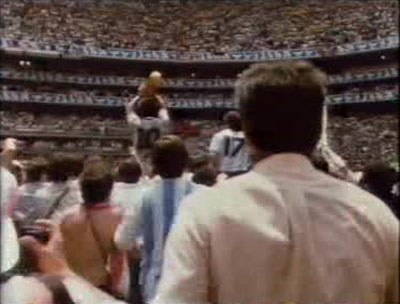 Argentina celebrates their triumph.
References:
https://en.wikipedia.org/wiki/1986_FIFA_World_Cup
VM-boken by Jesper Hoegstrom
Image source:
FIFA - World Cup Official Film 1986