World Cup 1954
The fifth FIFA World Cup was played in Switzerland 16 June to 4 July. The final stage of the tournament included 16 participating teams and 26 matches. Among the teams was the defending champions Uruguay that so far had won the tournament every time they participated.
Official poster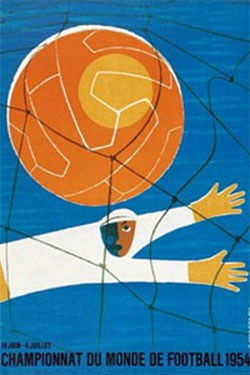 Participating teams
Austria
Belgium
Brazil
Czechoslovakia
England
France
Hungary
Italy
Mexico
Scotland
South Korea
Switzerland
Turkey
Uruguay
West Germany
Yugoslavia
Winners, 2nd & 3rd place
West Germany

Hungary

Austria
Top scorers
Sandor Kocsis (11 goals)
Max Morlock (6 goals)
Josef Hügi (6 goals)
Erich Probst (6 goals)
Cities and stadiums
Basel (St. Jakob Stadium)
Bern (Wankdorf Stadium)
Geneva (Charmilles Stadium)
Lausanne (Stade Olympique de la Pontaise)
Lugano (Cornaredo Stadium)
Zürich (Hardturm Stadium)
Average attendance: 34,212
Background
It was, however Hungary, as the big dominant in European football at this time, that arrived in Switzerland as the biggest favorite. One of their players was the legendary Ferenc Puskás. Puskás was injured against West Germany in the group phase, but would recover for the knockout stage.
Notable was that Scotland, South Korea and Turkey all had managed to qualify for the World Cup final for the first time (the former great power in football, Scotland, had only been a member of FIFA since 1949). Germany that had been forbidden to participate in the previous World Cup due to the actions in World War II was again welcome to participate.
The atmosphere in Switzerland was something completely else when it had been four years back in Brazil. The contrast to the passionate audience that filled the enormous Maracanã was rather big. The reason that such a small country would be the host for the biggest global football tournament was Switzerland was one of the nations that hadn't been particularly affected by the recent war.
This would be the first World Cup that could be seen on television.
Format
The format for 1954 World Cup was a first phase with four four-teams group from which two teams would advance to a final knockout stage. The curious thing with the set-up for this tournament was that every team only played two group matches and would therefore only meet two out of three teams. Which teams that should meet was based on ranking. Unsurprisingly, the design would be criticized. Also criticized was the idea that no concern would be taken if a team had come first or second in the group when the teams were assigned opponents in the Quarter-finals. This resulted in that a very plausible final would come off already in the Quarter-finals between Hungary and Brazil.
Cities and arenas
The matches would be played in six cities and at six stadiums (see "Cities and stadiums" box for overview). The Wankdorf Stadium in Bern had the biggest capacity with places for over 64,000 and the final would consequently be played here.
Tournament
The tournament would achieve the highest goals average ever in a World Cup with an astonishing 5.38 goals per match. The most excessive production of goals happened between Austria and Switzerland in the Quarter-finals; 7-5 after 90 minutes (12 goals in one match are still a record in the tournament). Another reason was South Koreas negative record with 16 goals forfeited. Over five goals per match had never happened before and will certainly not happen again.
In the Quarter-finals Hungary faced Brazil in a match that was mentioned as a moral final. However, the major impression of the game was not the sporting, but violent encounters on the field. The game that would be called "Battle of Berne" included three red cards, fights on the sideline after the final whistle and continued further with Brazilians attacking the Hungarian players in their locking room.
West Germany may be one of the biggest football nations, but the team in the 1954 World Cup lacked qualifications to a great degree and it was a big sensation when they won the Quarter-final against Yugoslavia. Even bigger was the 6-1 victory against Austria in the Semi-final. Despite the overrun against Austria, Germany was expected to stand without a chance against Hungary in the final. Anything else would be a miracle.

Hungary would take a 2-0 lead, but German morale and a muddy pitch that would serve the Hungarian passing style made it to what ever since have been called "The Miracle of Bern". West Germany became the winners of the tournament after beating Hungary in a tense game with three goals to two.
Stats
FIFA World Cup 1954 would include 26 matches in which 140 goals were made (5.38 goals per match). Three players were sent off during the tournament.
Results
Brazil, Yugoslavia, Hungary, West Germany, Uruguay, Austria, England and Switzerland would advance through the group phase to the knockout stage.

West Germany, Austria, Hungary and Uruguay would succeed in the Quarter-finals and go on the Semi-finals. West Germany would thrash Austria with 6-1 and Hungary would defeat Uruguay after extra time.

Show matches and results
Hide matches and results
Group 1
Yugoslavia - France 1–0
Brazil - Mexico 5–0
France - Mexico 3–2
Brazil - Yugoslavia 1–1 a.e.t
Group 2
Hungary - South Korea 9–0
West Germany - Turkey 4–1
Hungary - West Germany 8–3
Turkey - South Korea 7–0
West Germany - Turkey 7–2 (play-off)

Group 3
Uruguay - Czechoslovakia 2–0
Austria - Scotland 1–0
Uruguay - Scotland 7–0
Austria - Czechoslovakia 5–0
Group 4
England - Belgium 4–4 a.e.t
Switzerland - Italy 2–1
Italy - Belgium 4–1
England - Switzerland 2–0
Switzerland - Italy 4–1 (play-off)
Quarter-finals
Uruguay - England 4–2
Austria - Switzerland 7–5
Hungary - Brazil 4–2
West Germany - Yugoslavia 2–0

Semi-finals
West Germany - Austria 6–1
Hungary - Uruguay 4–2 a.e.t

Third place match
Austria - Uruguay 3–1

Final
West Germany - Hungary 3–2
The prize ceremony.
The squad of West Germany (champions):
Toni Turek (Goalkeeper)
Heinz Kubsch (Goalkeeper)
Heinz Kwiatkowski (Goalkeeper)
Fritz Laband (Defender)
Werner Kohlmeyer (Defender)
Hans Bauer (Defender)
Herbert Erhardt (Defender)
Josef Posipal (Defender)
Werner Liebrich (Defender)
Horst Eckel (Midfielder)
Karl Mai (Midfielder)
Paul Mebus (Midfielder)
Karl-Heinz Metzner (Midfielder)
Alfred Pfaff (Midfielder)
Helmut Rahn (Foward)
Max Morlock (Foward)
Bernhard Klodt (Foward)
Ottmar Walter (Foward)
Fritz Walter (Foward)
Richard Herrmann (Foward)
Ulrich Biesinger (Foward)
Hans Schäfer (Foward)
Sepp Herberger (Head coach)
Aftermath
The Hungarian player Ferenc Puskás would after the tournament accuse the Germans for using dope. He was forced by FIFA to take back his accusations, but 50 years later testified an attendant that he had had found syringes in the Germans locking room after the final. A study made by the Berlin Humboldt University would also later confirm that systematic doping had taken place in West Germany during a long period. The same report also claimed that the German football play ers had taken Methamphetamine before the 1954 World Cup final.

References:
https://en.wikipedia.org/wiki/1954_FIFA_World_Cup
VM-boken by Jesper Hoegstrom
http://mattdoors.blogspot.se/2013/10/1954-world-cup-final-miracle-of-drugs.html
Image source:
FIFA - World Cup Official Film 1954