World Cup 1950
The fourth World Cup in football took place in Brazil between 24 June and 16 July. It was the first World Cup since 1938 – because of the Second World War no World Cup were arranged neither 1942 nor 1948. In 1946 the decision was taken to arrange a new World Cup that would take place in Brazil, far from the war-torn Europe.
Official poster
Participating teams
Boliva
Brazil
Chile
England
France (withdraw)
India (withdraw)
Italy
Mexico
Paraguay
Spain
Sweden
Switzerland
United States
Uruguay
Yugoslavia
Winners, 2nd & 3rd place
Top scorers
Ademir (8 goals)
Óscar Míguez (5 goals)
Alcides Ghiggia (4 goals)
Chico (4 goals)
Estanislao Basora (4 goals)
Zarra (4 goals)
Cities and stadiums
Rio de Janeiro (Estádio do Maracanã)
São Paulo (Estádio do Pacaembu)
Belo Horizonte (Estádio Sete de Setembro)
Curitiba (Estádio Durival de Britto)
Porto Alegre (Estádio dos Eucaliptos)
Recife (Estádio Ilha do Retiro)
Average attendance: 47,432
Background
Due to the actions in the war, both Germany and Japan was banned from the tournament. Due to political reasons, Soviet Union, Hungary and Czechoslovakia chose not to participate. Argentina would withdraw under the qualification stage after a disagreement with Brazilian Football Confederation. France and India would withdraw for other reasons after being qualified for the tournament which resulted in asymmetrical groups.
With India and France excluded, 13 teams were in reality participating in the World Cup of football in 1950. One of the teams was England that after finally becoming a FIFA member would partake in the prestigous tournament for the first time.
Unlike the last time the World Cup was held in South America most of the European top nations in football would partake - this time transatlantic flight had emerged which made the long trip easier (Italy would, however travel by sea, understandable after the tragic air disaster that the year before wiped out the entire Torino football team).
Format
The group play that had been used in 1930, but been abandoned four years later would be put back into practice (the reason was economical). The format for World Cup 1950 was two phases of group play. Out of four groups four group winners would advance to a final group stage.
Cities and arenas
The matches would be played in six Brazilian cities and at six stadiums (see "Cities and stadiums" box for overview). The host country had built a new enormous stadium for the event, the Maracana Stadium (Estádio do Maracanã) with a capacity close to 200,000.
Tournament
Because of the absence of France that had withdrawn, the Group 4 would only include one match. Uruguay would beat Bolivia in this match with 8-0 and would get an easy path to the knockout-stage.
Brazil was at this time a prosperous country, and as a football nation, it had emerged as a serious contender to the current powerhouses in South America: Uruguay and Argentina. They had won the 1949 Copa América in great fashion, scoring 39 goals in seven matches. Brazilian people breathed great optimism, but after the second group match against Switzerland was drawn the supporters were furious and the trainer Flavio Costo needed a police escort from the arena. Brazil would, however, advance from their group to the final round. In the second group phase no other team was near as impressive as Brazil (7-1 against Sweden and 6-1 against Spain), and at this point the passionate football nation seemed sure of a complete victory. A chock was nevertheless waiting in the final match in which Brazil only need to draw to be world champions.

Even that it officially were 173,850 at the Maracanã stadium it has estimated to be over 200,000 the 16 July when Brazil played against Uruguay in the match that would decide the outcome of the tournament. After taking a 1-0 lead Uruguay would come back and winning by two to one. The result would chock a nation and the Brazil national team who always had played in white kits would never do it again after the defeat against Uruguay.
The British football was for a long period been considered as superior in comparison with the rest of the world. In the last decades other nations had, however, taken giant steps and this would be proven when the best British nation, England, finally played in the World Cup. After one won match and two lost the fiasco was a fact - England was eliminated before the final round.
A curiosity is that this was the first World Cup in which the players had numbers on their backs.
Stats
FIFA World Cup 1950 would include 22 matches in which 88 goals were made (4 goals per match). No player was sent off during the tournament.
Results
Brazil, Spain, Sweden and Uruguay succeed to win their respective groups. They would play each other in a second round that consisted of a four-team group. The last game, between Uruguay and Brazil, would be the decisive - at this point the home team y needed only a draw to secure tournament victory. The match was played at the Maracana Stadium and is regarded as one of the most classic World Cup finals with an attendance 199,854. The result, would however not serve, the majority of the spectators. After the home team took the lead Uruguay would deliver two goals in the second half and win the match and the tournament.

Uruguay who had chosen not to partake in the 1934 or 1938 tournaments collected their second title out of two participations. And their forward became the first player in World Cup to score in all games he played in.
Show matches and results
Hide matches and results
Group 1
Brazil - Mexico 4–0
Yugoslavia - Switzerland 3–0
Yugoslavia - Mexico 4–1
Brazil - Switzerland 2–2
Brazil - Yugoslavia 2–0
Switzerland - Mexico 2–1

Group 2
Spain - United States 3–1
England - Chile 2–0
United States - England 1–0
Spain - Chile 2–0
Spain - England 1–0
Chile - United States 5–2
Group 3
Sweden - Italy 3–2
Sweden - Paraguay 2–2
Italy - Paraguay 2–0
Group 4
Uruguay - Bolivia 8–0

Final Round*
Brazil - Sweden 7–1
Uruguay - Spain 2–2
Brazil - Spain 6–1
Uruguay - Sweden 3–2
Sweden - Spain 3–1
Uruguay - Brazil 2–1

* Decided by group play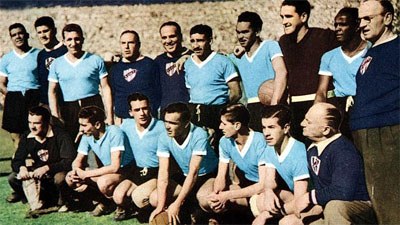 The Uruguay team.
The squad of Uruguay (champions):
Roque Máspoli (Goalkeeper)
Aníbal Paz (Goalkeeper)
Schubert Gambetta (Defender)
Juan Carlos González (Defender)
Matías González (Defender)
William Martínez (Defender)
Eusebio Tejera (Defender)
Héctor Vilches (Defender)
Washington Ortuño (Midfielder)
Rodolfo Pini (Midfielder)
Víctor Rodríguez Andrade (Midfielder)
Obdulio Varela (Midfielder)
Julio César Britos (Forward)
Juan Burgueño (Forward)
Alcides Ghiggia (Forward)
Oscar Míguez (Forward)
Rubén Morán (Forward)
Julio Pérez (Forward)
Luis Rijo (Forward)
Carlos Romero (Forward)
Juan Alberto Schiaffino (Forward)
Ernesto Vidal (Forward)
Juan López Fontana (Head coach)

References:
https://en.wikipedia.org/wiki/1950_FIFA_World_Cup
https://en.wikipedia.org/wiki/Superga_air_disaster
VM-boken by Jesper Hoegstrom
Image source:
Bildbyrån