FC Internazionale
The history of FC Internazionale Milano is a turbulent one, with many highs and some lows along the way. The club was founded in 1908, following a breakaway from its parent club AC Milan. It is commonly believed that the dispute was about Milan focusing exclusively on Italian players. As per the wishes of its founders, the new club was named Internazionale, thus signaling it was open to players of all nationalities.
Basic facts
Founded: 1908
Country: Italy
City: Milan
Home grounds
Arena Civica (1908-1945)
San Siro (1945-)
Main Trophies
Italian Football Championship/Serie A: 18
Coppa Italia: 7
European Cup/Champions League: 3
UEFA Cup: 3
See details
Hide details
Italian Football Championship: 1909–10, 1919–20
Serie A: 1929–30, 1937–38, 1939–40, 1952–53, 1953–54, 1962–63, 1964–65, 1965–66, 1970–71, 1979–80, 1988–89, 2005–06, 2006–07, 2007–08, 2008–09, 2009–10
Coppa Italia: 1938–39, 1977–78, 1981–82, 2004–05, 2005–06, 2009–10, 2010–11
European Cup: 1963–64, 1964–65
UEFA Champions League: 2009–10
UEFA Cup: 1990–91, 1993–94, 1997–98
Prominent players
Giuseppe Meazza, Lennart Skoglund, Sandro Mazzola, Jair da Costa, Luis Suárez, Roberto Boninsegna, Alessandro Altobelli, Walter Zenga, Lothar Matthäus, Andreas Brehme, Jürgen Klinsmann, Javier Zanetti, Christian Vieri, Youri Djorkaeff, Zlatan Ibrahimović
Club records
Most games played: Javier Zanetti (858)
Top goalscorer: Giuseppe Meazza (284)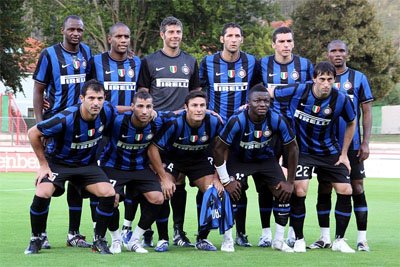 History
It didn't take long for Inter to start walking the road to greatness, as the first Scudetto came only two years after the club was founded. Inter would cement its role in Italian football by winning six more in the next 50 years. Their first Coppa Italia trophy was won in 1938, on the back of Giuseppe Meazza's inspirational displays. Meazza is still Inter's leading goalscorer of all time with 284 goals, and the club's stadium would later be officially named in his honor.
Under the influence of Herrera
For its greatest successes, Inter has to thank the Argentine coach Helenio Herrera. As soon as he arrived at the club in 1960, he started modifying the catenaccio system in order to make it more suited for counterattacks. An important aspect of the catenaccio system was the libero, a role that was given to Armando Picchi. Herrera also set strict guidelines regarding nutrition and other areas concerning discipline. During Herrera's tenure at the club (1960-1968), Inter won two European Cups and three Scudettos, conceding less than a single goal per game throughout. They would never repeat that kind of dominance, and this golden period is now famously known as the "Grande Inter" era.

Herrera had a great team including the skillful attacker Sandro Mazzola, the fast right-winger Jair da Costa and the playmaker Luis Suárez, who became the most expensive player in the world when he moved from Barcelona to Inter in 1961.
Darker times
In the next twenty years, Inter managed to add two Scudettos and two Italian Cups to its tally. Then came the roaring 90s, and Inter suddenly found themselves on the margins, playing second fiddle to its old rivals, Milan and Juventus. The club was dangerously close to being relegated in 1994, but managed to survive and remain the only Italian club to never drop from the top division.
The Treble
This Dark Age came to an end with the appointment of Roberto Mancini as head coach in 2004, who led them to three consecutive Scudettos before departing in 2008. In 2010, Inter became the first Italian team to complete a Treble by winning Serie A, Italian Cup and the Champions League.

By Martin Wahl
Logo
The current FC Internazionale logo is almost similar to the black and white logo that was created by Giorgio Muggiani in 1908. A new version which added blue and gold colors was adopted in 2007. Between 1928 and 2007 different logos was used among which was quite similar to the current.
Trivia
Football clubs also founded in 1908

RSC Anderlecht


Panathinaikos FC
Serie A record
| Season | Position | Points | Notes |
| --- | --- | --- | --- |
| 2017-18 | 4 | 72 | |
| 2016-17 | 7 | 62 | |
| 2015-16 | 4 | 67 | |
| 2014-15 | 8 | 55 | |
| 2013-14 | 5 | 60 | |
| 2012-13 | 9 | 54 | |
| 2011-12 | 6 | 58 | |
| 2010-11 | 2 | 76 | |
| 2009-10 | 1 | 82 | 18th league title |
| 2008-09 | 1 | 84 | 17th league title |
| 2007-08 | 1 | 85 | 16th league title |
| 2006-07 | 1 | 97 | 15th league title |
| 2005-06 | 2 | 76 | |
| 2004-05 | 3 | 72 | |
| 2003-04 | 4 | 59 | |
| 2002-03 | 2 | 65 | |
| 2001-02 | 3 | 69 | |
| 2000-01 | 5 | 51 | |
| 1999-00 | 4 | 58 | |
Champions League record
| Season | Tournament stage | Notes |
| --- | --- | --- |
| 2011-12 | Round of 16 | Defeated by Marsielle |
| 2010-11 | Quarter-finals | Eliminated by Schalke |
| 2009-10 | Winner | 4th tournament title |
| 2008-09 | Round of 16 | Eliminated by Man. U |
| 2007-08 | Round of 16 | Eliminated by Liverpool |
| 2006-07 | Round of 16 | Eliminated by Milan |
| 2005-06 | Quarter-finals | Eliminated by Villareal |
| 2004-05 | Quarter-finals | Eliminated by Milan |
| 2003-04 | First group stage | |
| 2002-03 | Semi-finals | Eliminated by Milan |
| 2000-01 | Third qualifying round | |
| 1998-99 | Quarter-finals | Eliminated by Man. U |
External links

References:
https://en.wikipedia.org/wiki/Inter_Milan
Jonathan Wilson, Inverting the Pyramid: The History of Soccer Tactics (2013)
http://www.espnfc.com/story/841132/a-brief-history-of-inter-milan
http://logos.wikia.com/wiki/FC_Internazionale_Milano
Image source:
Steindy